09.07.2018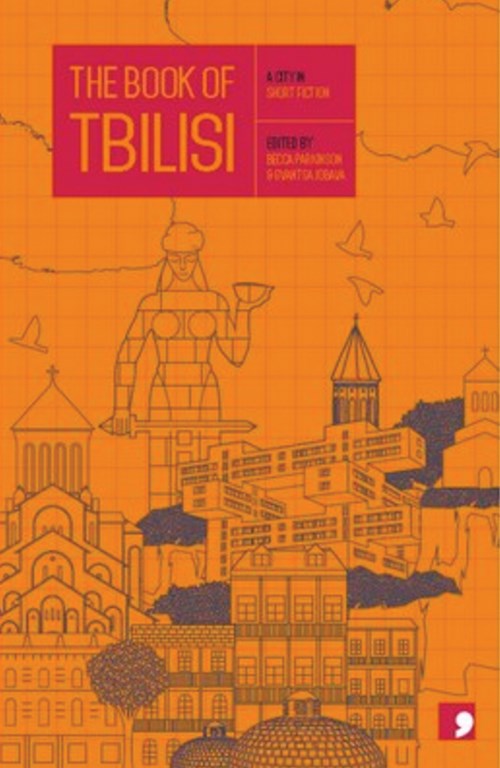 Books – Review
THE BOOK OF TBILISI
Edited by Becca Parkinson & Gvantsa Jobava
Published by Comma Press
This latest in Comma Press's series of (always good) city anthologies takes us to the Georgian capital, Tbilisi, a culturally distinctive city and a historically complex one. The book's ten stories all take us to the Tbilisi that's contemporary – a place of social media and cellphone roaming and TV talent shows – but the aftershocks of the past are still felt here. On an historical, national scale (former Soviet systems are still everywhere apparent) but also on the personal, with two stories in particular evoking the communicative and connective power of shared family memories. In one of these, "Dad After Mum", one of the collection's stand-outs for me, a widowed father has lost his memory of the past or who he is; this makes his unremembered daughter's identity fragile and contingent, until she finds a way to reawaken something that has long been dormant within him.
"Dad After Mum" isn't the only melancholy story – on the contrary, there's a lot more evidence of unhappiness and dissatisfaction here than of their opposites. We meet many characters who can't find their place in the world, who have lost their bearings and their meanings (an eccentric TV producer spends his days scouting for talentless people for a talent show, while a talented tightrope-walker is forced by circumstance to work in a massage parlour); others are on the edge of death themselves, or have lost loved ones ("Precision" is particularly devastating). And where happiness is actually in evidence, it's often allied to other forces that are darker – in the deeply unsettling "Flood", say, where a family does indeed feel something like exhilaration, but this feeling comes from tearing their entire apartment violently to shreds…
Georgia is a country proud of its literary heritage, but also of the scope of its contemporary writing, and there's a good breadth of new talent showcased here (often in pretty good translations, too). It's hard to resist the somewhat reductive and/or futile task of trying to figure out what they have in common, though it's certainly the case that the common threads are on the whole more thematic than narrative or stylistic (there's a lot of resistance and survival in a time of pressurised change, a lot of intrusion and often hostility from neighbours in ugly apartment blocks…). But as with others in this excellent series, part of the pleasure is not only in the quality of the stories but precisely their variety. Indeed, some needn't be Tbilisi at all and might be set anywhere. There are enough though that give a sense of this city, however hard it might be for us outsiders to pin that down. Credit is due, also, to co-editor Gvantsa Jobava's introduction, which provides useful context to help those of us new to this fascinating place find our way around.
This review was previously published as one of the European Literature Networks #RivetingReviews in March, 2018
The Dictatorship of Poetry
Poems in Georgian by Zurab Rtveliashvili
Translated by Natalia Bukia-Peters and Victoria Field
This is the first translation into English of a major collection of work by the celebrated Georgian poet, performer and human rights activist, Zurab Rtveliashvili.
The Dictatorship of Poetry includes poems written before his emigration to Sweden and more recent work completed since.
Zurab Rtveliashvili's poetry is avant-garde and full of linguistic and sound experiments and at the same time highlights and reflects on key socio-political issues whilst preserving the dynamism of his poetry. According to Zurab Rtveliashvili, today's reality means we are all living in a world dominated by a verbal industry which labels everything according to a special code. With his unique poetic process, Zurab Rtveliashvili breaks free from these shackles and shows his readers how language can go far beyond simple alphabetical notations and grammatical norms.
A House with no Doors
Ten Georgian Women Poets
Translated by Natalia Bukia-Peters and Victoria Field
This anthology is the first to present contemporary Georgian women poets translated into English alongside the original Georgian.
Poetry by women in Georgia dates back to medieval times with Queen Borena and Queen Tamar among the earliest named poets in the Georgian language.
This anthology opens with poems by Lia Sturua one of the most established poets in Georgia and one of the first to write in free verse. It concludes with poems by Lia Liqokeli and Salome Benidze whose reputations were established before they were thirty. This gives the reader a unique overview of Georgian poetry over the recent decades that have coincided with tumultuous political and social changes.
These ten women poets, distinct in form and theme, open a window onto a culture in transition, one where literature plays a central role in culture and identity, and where the vivid and fierce voices of women are crucial.
The poets incuded in this anthology are: Lia Sturua, Rusudan Kaishauri, Maia Sarishvili, Nato Ingorovka, Lela Samniashvili, Tea Topuria, Eka Kevanishvili, Diana Anphimiadi, Lia Liqokeli, Salome Benidze
Natalia Bukia-Peters is a freelance translator, interpreter and teacher of Georgian and Russian. She is a translator for the Poetry Translation Centre in London and translates a variety of literature, poetry and magazine articles.
Victoria Field is a writer and poetry therapist. She has published three collections of poetry, most recently The Lost Boys (Waterloo, 2013) which won the Holyer and Gof prize. Her memoir Baggage: A Book of Leavings was published by Francis Boutle in 2016.
Published translations by Natalia and Victoria include:
Short fiction (Sex for Fridge by Zurab Lezhava and It's Me by Ekaterina Togonidze in Dalkey Archive's Best European Fiction anthologies, 2011 and 2014 respectively);
Two collections of poetry by Dato Magradze (Giacomo Ponti, 2012, and Footprints on Water, 2015);
Collection of short stories, Me, Margarita by Ana Kordzaia-Samadashvili (2015, Dalkey Archive).
Six Georgian Poets
Bilingual English / Georgian edition
Featuring the work of Rati Amaglobeli, Shota Iatashvili, Gaga Nakhutsrishvili, Lela Samniashvili, Maya Sarishvili and Irakli Charkviani
Translated by Alexandra Büchler, Nia Davies, Donald Rayfield, Adham Smart, and Stephen Watts with Davit Gabunia
Part of the New Voices From Europe and Beyond series Six Georgian Poets brings us the work of the most outstanding literary representatives of what has been dubbed 'the Gagarin Generation". Yuri Gagarin, the first astronaut who died tragically young, was an international celebrity and a hero of the Soviet Bloc. His space journey could be subversively interpreted not as one of the victories in the Cold War competition between two ideologically opposed superpowers, but as a daring breakout towards freedom. This generation of people born in an era of a growing resistance against the strictures of Soviet rule, a generation characterized by challenging the entrenched conformism of thought and action, is represented here by a diverse set of voices, each of which speaks out of an experience both personal and collective, giving us a rare insight into a culture and literature we need to know more about.