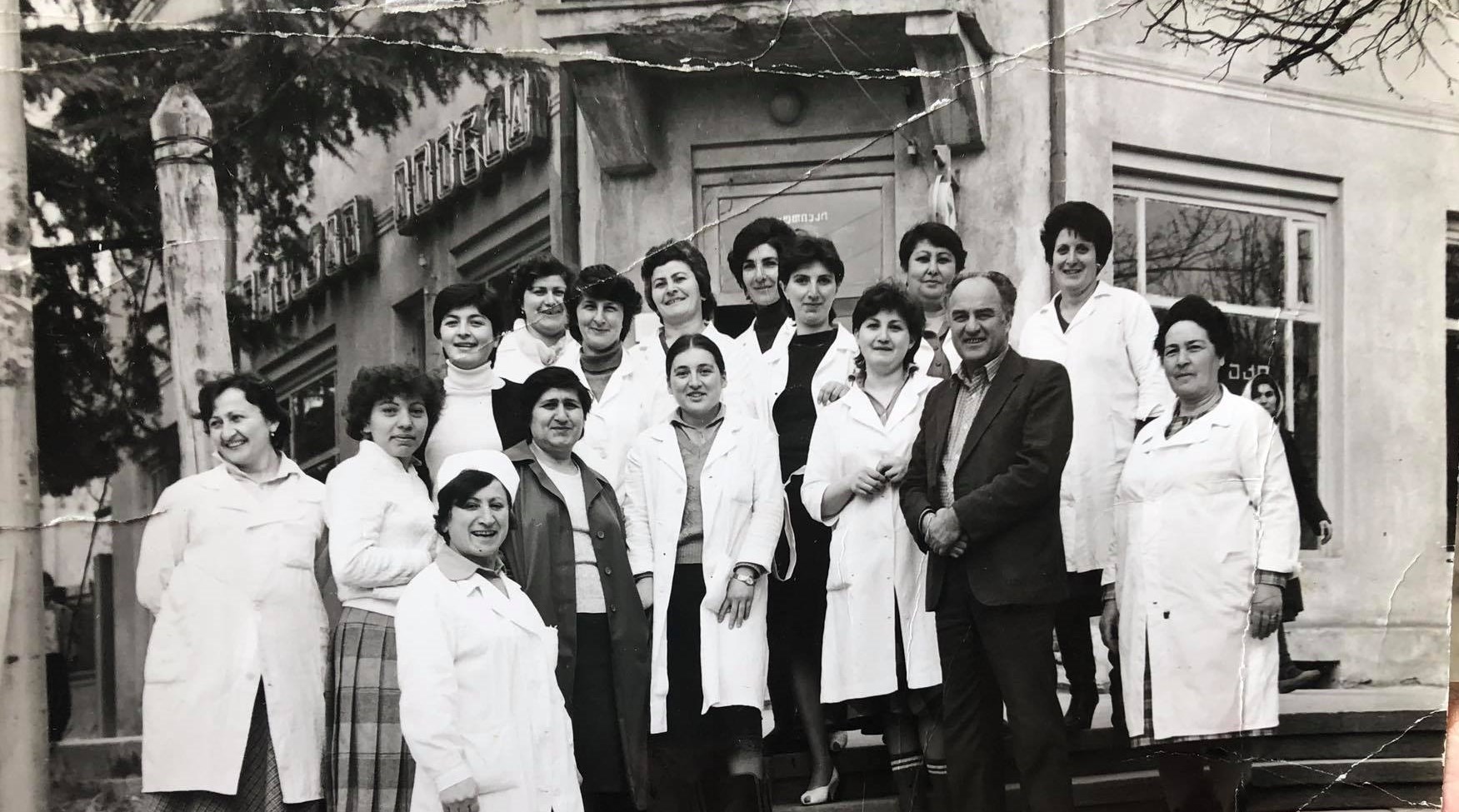 NIVA | Nunu Trapaidze-Begiashvili, from Tskhinvali [ENG]
10.08.2020
Nunu Trapaidze-Begiashvili, 81 Years old, From Tskhinvali
Today lives in Dighomi, IDP Settlement
I worked in the regional pharmacy in Tskhinvali, as an assistant manager. I lived on the second floor of the pharmacy with my family. 
My husband's village was Sunisi in the region of Znauri. He had his mother and father there. 
My kids and I came down here at the end of 1990, when Jaba Ioseliani came. Before that, I was in Znauri when the manager called me. He said, I can't handle all of this alone in this chaos, come back to Tskhinvali. 
I took my girl and went. At the entrance I see that Georgians are already leaving. They're asking us, Where are you going? Are you crazy? There aren't any Georgians left there. Go! Save yourselves. Helicopters are flying on top of Tskhinvali, Georgian military is getting ready to enter the city, they said. 
This took place in December, there was snow and chill, I remember. 
I came back to the village. In a little while, the tensions rose in Znauri too. My spouse gathered my boy, my girl and me, and also the in-laws' kids, and all the kids that were there, and took all of us out. Back then, he had an UAZ. We took some essential bedding and left. My spouse immediately went back to the village, his parents were there. Everyone loved my husband, he was that kind of man. 
This distinction between Ossetian and Georgian didn't exist before, then what happened, I don't know.
When Gamsakhurdia came out with a proposal to abolish the South Ossetian district, it started then. I knew something terrible was going to follow all this. All of those who were on the inside knew, everyone saw, the Ossetian society wasn't going to take this lying down. 
They started burning down houses once Jaba Ioseliani's or Gamsakhurdia's people came. There were shootings apparently. A woman was taking her kid out of kindergarten when the kid was hit by a stray bullet and died right there in the arms of his mother. After that, they went to Georgian houses in the village and burned them all down. 
The people fled through the forest. They would be met by Ossetians on the road, taking them away. My husband was so afraid in the village. They would stream into the yard, sometimes hiding out in haystacks, sometimes in the garden. He couldn't leave the house. We had two cars back then. Both were taken by Ossetians, my dear. My husband's friend came for the Niva himself. This is what our friendship has come to? my husband asked. That was before, not anymore, he responded. He took the Niva. 
They broke into our Tskhinvali home and took everything. What was left, the neighbor took for himself and nailed the door shut. 
My girl and I went to Tskhinvali twice. What we could bring, we carried it on our backs.  I went by myself the third time, as it was too dangerous then. All of our photos were scattered on the floor. My neighbor, when she saw me, quietly threw my things out in the corridor, so no one would see her. I quickly picked them up. I even packed books and albums. I could barely carry all of it, the bag was so heavy.
After a few years, my coworker helped me out. She had relatives in Niqozi, the head of the Georgian army. She worked it out with him to let me into Tskhinvali, I had to get my belongings from my home. This man told me, go to Tskhnivali and ask in the headquarters if they will give you permission, I will give you a car and help you unload everything. I left. There was a young Ossetian boy in the office. He said, Madam, let's go to the pharmacy where you worked and speak with your coworkers. If they agree to give you permission, then I will help you with pleasure. 
I entered the pharmacy, and the second assistant manager was there. So, I told them I want to get my furniture. Take it, Nunu, whatever you want, we have no right to not allow you to get your furniture, they said. I came back and told him that they all agreed. Then he said, I will give you a car and provide security for you. He sent 10 boys with me, in military fatigues and automatics. I'm the only woman there. We went back to that office. From there, the Ossetian boy came with us. Our five Georgian military boys stayed downstairs, the other five came upstairs. What we could carry, we took out. But at what cost? My back was laid bare with fear. If one bullet had escaped and hit someone, it would have been a death sentence! It would've been all for nothing. But nothing happened. Everything was done without a word. No one said a word. 

I lost hope little by little, but my husband thought we were definitely going to return. He died in 2013. My brother used to tell him, Jemal, the situation won't be fixed this quick, it's going to need 20-25 years at least. Over 30 years have passed already. 
In our home in Tskhinvali, an Ossetian woman lives there. We don't know who she is. They burned down our house in Znauri in 1991. There is only one man left in the whole village, no one else. 
Transcription done by: Marta Melikidze 
Text: Nino Lomadze