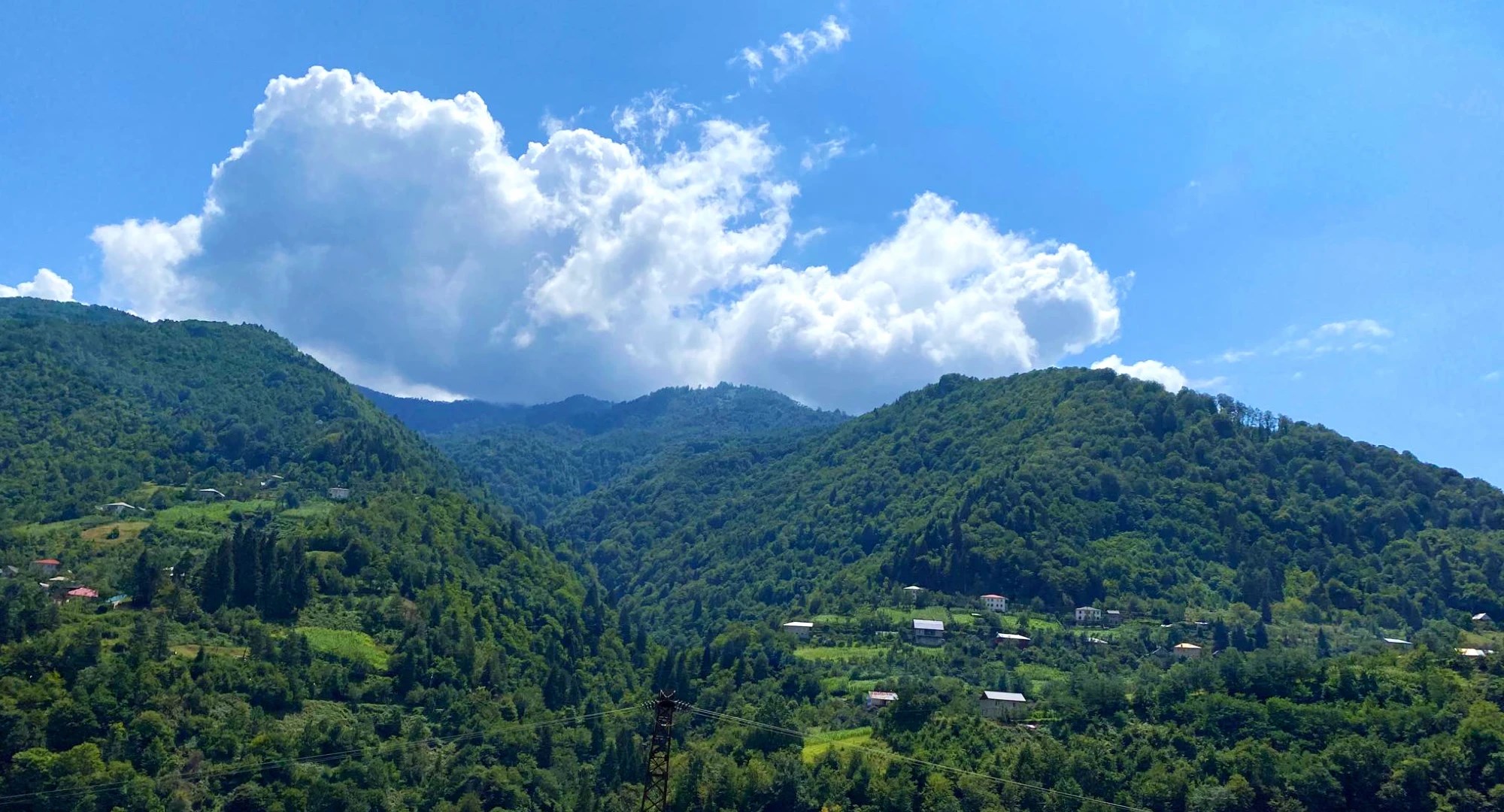 Once in Adjarian Mountain
30.08.2020
The article was published by Adventurer Magazine
If all that Adjara brings to mind is the sea and Batumi, it's probably about time you familiarized yourself with the sunny, mountainous, alpine pasture of Adjara. There is much more to Adjara than just the sea or Adjaruli khachapuri cheese bread, the pearl of local cuisine though it may be. Hardworking people with big hearts live here. They are the uncontested champions when it comes to putting one's heart into singing and dancing: It just runs in their blood.
Adjaruli men plow and plant at the top of the mountain. They tend vineyards on steep mountain slopes and grow different grape varieties that make for the most delicious wines. And it is up to guests to pick their choice of wine to enjoy, whether it be Ojaleshi, Chkhaveri, or Tsolikauri.
Adjaruli women are up with the chickens to milk the cows, process the milk, and make cheese, butter, and kaimaghi sour cream. The agricultural goods produced by mountainous Adjara eventually end up in Batumi's farmers' market.
Adjara, especially its mountainous section, is a land of hardworking, dedicated people who love hosting guests, and are really good at it. You will never regret traveling there.
Let's start our journey from Mtirala, along the Kobuleti-Chakvi Ridge, a destination offering an equally unforgettable experience all year round.


Mtirala National Park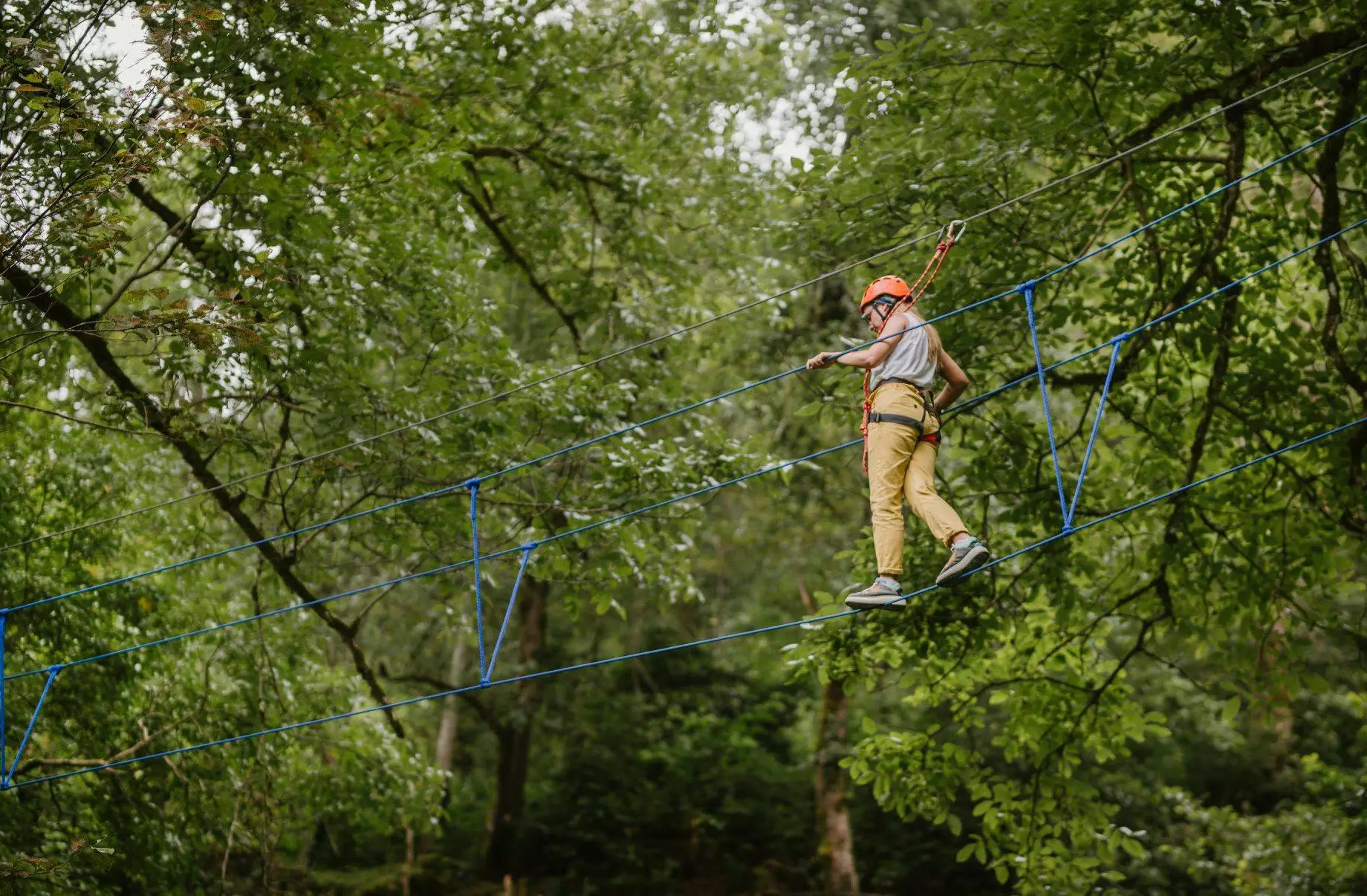 In the village of Chakvistavi, near the visitor information center by the entrance of Mtirala National Park, you will be offered several routes. One will take you down a trail with direction signs, leading up and down hills, allowing you to jump over mountain brooks and, after the final uphill, find yourself facing an enormous waterfall listening to the water crashing on the rocks. Enjoy some rest in the bosom of nature and take the same trail back.
The second route leads into the village. You will find several small cafes and restaurants on your way, where you can take a break and enjoy authentic Adjarian coffee, or you can just keep on pushing. The path, which stretches along the Chakvistskali River, is simply gorgeous. At the end of the road you'll find a manually operated cable car built by a local man taking people across the river. All you have to do is pay a couple of GEL, snuggle into the car, and the next thing you know you are on the other side where the second footpath with signs for directions leads up to Mtirala Waterfall.
If you are into extreme sports, you have two options. You can team up with an instructor and go zip-line flying, or venture solo into the adventure park with a rope course to overcome numerous obstacles. The village of Chakvistavi is an integral part of Mtirala National Park. One may say even that it is right in the middle of the park. In recent years, the village's population has returned, and the place is especially animated and lively in summer. You can reserve a meal at one of the households, visit the park and the waterfall, and come back just in time to enjoy some Adjarian dishes.
The waterfall is called Mtirala (weeping in the Georgian language) for a reason—it seems to rain here all the time. If you are lucky enough to come here in good weather in the morning, it will surely rain in the evening, so make sure you always have a raincoat with you.
On your way from Mtirala to the Machakhela Gorge, you will pass along the seacoast, where I strongly recommend dropping by Cape Green for a couple of hours of tanning or just listening to the sounds of the sea on the beach. Whenever you are ready, you can continue your ascent of the mountain.
How to get there:
From the Chakvi Settlement, where any public transport can take you, you will have to hire a cab for 25-30 GEL to the Mtirala visitor information center.


Machakhela Gorge
On your way from Batumi to mountainous Adjara, you will bump into the village of Acharistskali. The road sign will tell you to turn right for the Machakhela Gorge. So you turn right, and that's when your true adventure begins. Just past the entrance, you will see the statue of the Machakhela Rifle, a monument erected by the local residents. Some 150 years ago, they were unrivaled in all of Adjara in flintlock manufacturing. Equally famous were the Machakhela blacksmiths whose weapons were held in high esteem not only in Georgia, but also throughout the Ottoman Empire. Fans of ethnography are advised to visit the village of Zemo Chkhutuneti. Its ancient mosque presently houses a museum of ethnography and preserves the history of the gorge in general.
The museum was founded in 1984 by Nugzar Nagervadze, a local resident who used quite a peculiar method to collect artifacts. He put the residents of Zemo Chkhutuneti into two teams and held a competition in donating exhibits. For example, a donated family dagger or a Machakhela rifle equaled 100 points, a wine jar or other household item garnered 5 points. Most of the museum's artifacts were collected during this competition.
The museum's exhibits reenact how people lived in ancient Adjara, what they wore, what kitchenware they used, and how they entertained themselves.
If you love wandering through pristine nature, you have three routes to choose from in the Machakhela Gorge. One is called Mtavarangelozis Biliki (Archangel's Trail), stretching 4 kilometers and ending by the foot of Mount Mtavarangelozi. From the top of the mountain, you can enjoy magical views of Batumi, a truly lasting experience.
The second route is called Kokoletis Biliki, a path you can cover either by car or on foot, wander through virgin nature, camp, and relax. The third route is known as Chanchkeris Biliki (Waterfall Trail), which makes sense because it takes you to a waterfall, by car or on foot, just the same—the choice is yours!
How to get there: It is easiest to take a car to the gorge.
Tago
Tago is the only village in the Khulo Municipality connected to the outside world via a cable car stretching from the center of Khulo to Tago at 1000 meters above sea level. It usually takes 8-10 minutes to find yourself in a quintessential Adjarian village with log houses, bright green pastures, and warmhearted people.
There are about 70 households living in the village, mostly pursuing horticulture and cattle-breeding. The cable car, appreciated by tourists as something exotic, is the shortest and fastest way of connecting to the region's center for the locals. A ride costs only 20 tetri. Tago's villagers use the cable car to transport their goods for an extra price. For example, they pay an additional 20 tetri for a hay bale and a sack of potatoes. The cable car has a set schedule, opening at 8:30 AM, taking a break at 1 PM, resuming at 3 PM, and closing at 7 PM. The village itself is an exciting site, especially the narrow path running between fences from the cable car station to the center, with quaint houses lined up on either side. A mosque and a school are the key features of the village's center. Potato farming and cattle-breeding are the main sources of income for the locals.
If you prefer hiking, and are not afraid of long distances on foot, you can enjoy a walk from Tago to Skhalta. This 7-kilometer trail passes through a forest and usually takes a couple of hours.
How to get there: You can catch a ride on a shared taxi or take your own car to Khulo, from where you take a cable car ride to the village.  


Skhalta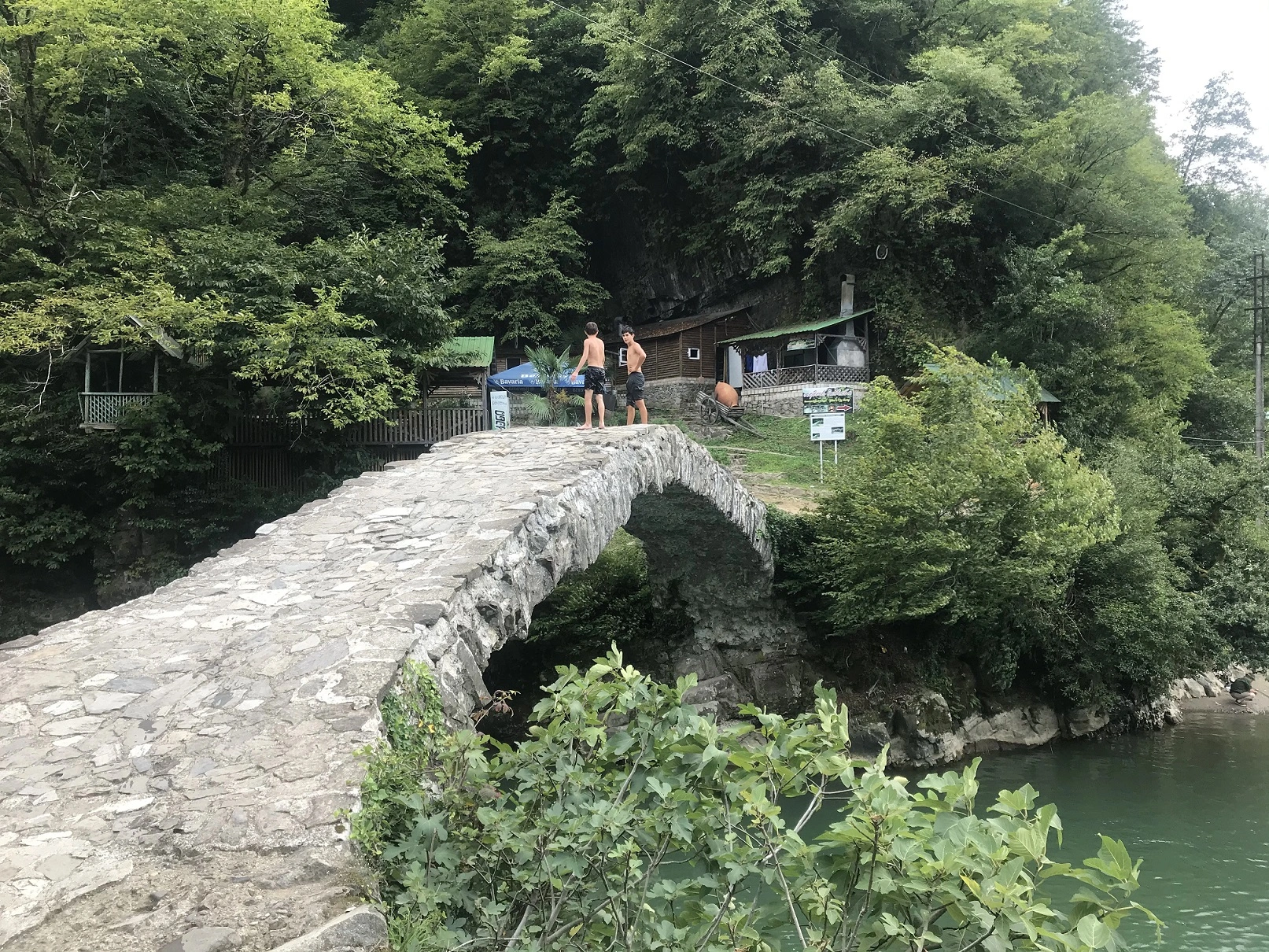 The Skhalta Gorge best illustrates the diversity of Adjara. Down the Batumi-Khulo-Akhaltsikhe Highway, you will see an exit sign to the Skhalta Gorge. At the entrance of the gorge, you will find an ancient arch bridge known locally as Tamar's Bridge. There are 25 stone arch bridges in Adjara. Legend has it that they were all built by Queen Tamar, which is why the locals refer to them as Tamar's Bridges.
Generally, all good deeds and great feats, every arch bridge and string fortification, are ascribed to Queen Tamar's merit. It is nearly impossible to find even a single village where at least one landmark is not linked to her name. Legends claim that if a given village's main stream is named after Tamar, it means that she passed through the area and drank from this stream eight centuries ago. If you come across a field named after her, you will know that Queen Tamar stopped and camped there with her troops. Similarly, a hill immortalizing her name must be a place where Queen Tamar's warriors washed their mud-covered feet, and the mud piled up to form a hill.
The road to Skhalta runs alongside the Skhaltistskali River. On your way, near the village of Purtio, you will find a cold mountain stream, where you can get some rest, buy fresh fruits, and socialize with the locals. The most impressive landmark of the gorge is the 12th century Skhalta Monastery, which has stood the test of time and survived to this day. The village of Skhalta also features the Museum of Sherif Khimshiashvili, or Sherif-Bey Khimshiashvili, the last ruler of Zemo (Upper) Adjara and leader of the national liberation movement of Muslim Georgia.
The museum occupies the house of Adjara's Bey and displays his personal effects, such as silver, copper, and china tableware, weapons, photos, and oil paintings.
How to get there: It is easiest to take a car to the gorge.


Chirukhi
Summer is the best time to travel to mountainous Adjara because, for one, the populations of Adjara's villages are stationed in alpine pastures at this time. Almost every gorge in Adjara has its own pastures, each special and beautiful in its own way. And Chirukhi is one such summer pasture in the Shuakhevi Municipality, where the populations of the surrounding villages spend only three months in summer. That is why visiting Chirukhi is recommended in the summer. There is a small lake amid the pastures, sandwiched between mountains. The lake offers a mesmerizing sight early in the morning.
From Chirukhi, you can walk to Beshumi Resort.
The 36-kilometer Chirukhi—Sarichairi—Khikhani Fortress—Tetrobi Pass—Beshumi—Goderdzi Pass route takes 3-4 days, and it is the best route to familiarize yourself with mountainous Adjara.
If you decide to embark on this route, make sure you visit the 10th-12th cc. Khikhani Fortress built on a steep slope and praised as one of the most unassailable fortifications in Georgia.
Before setting off, I recommend making thorough preparations and planning.
How to get there: A vehicle road leads up to Chirukhi, so you can catch a car ride. Alternatively, you can take a shared taxi to the village of Shubani, and then walk down a 10-kilometer path.
Beshumi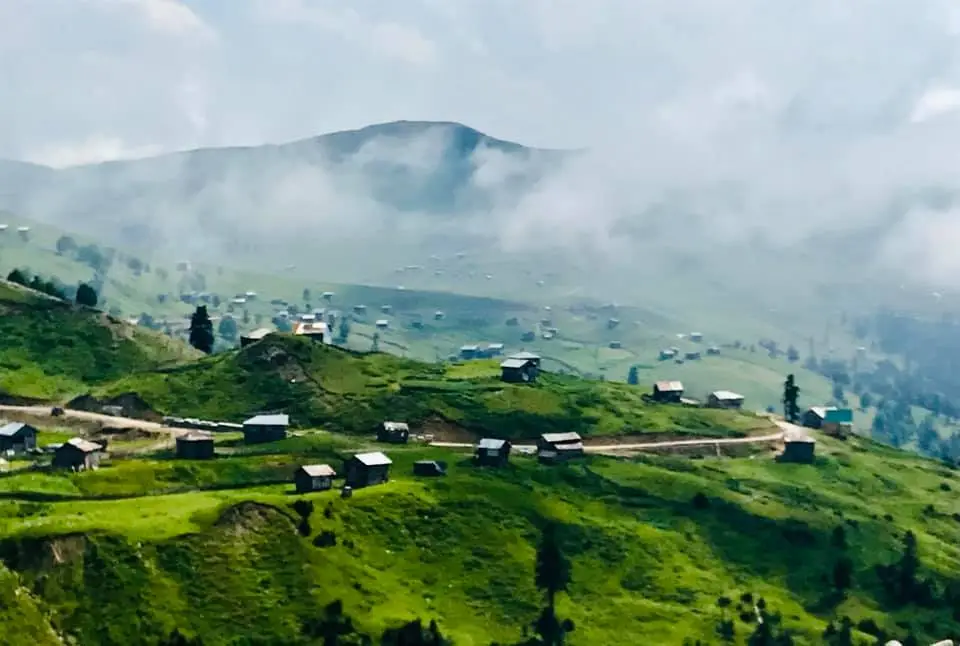 Beshumi is a summer destination at 1900 meters above sea level, one with prospects of transforming into a winter resort in mountainous Adjara. The main obstacle on your trip will be the 47-kilometer road connecting Beshumi to the center of Khulo. It takes as long as three hours to cover this unpaved road. All these difficulties, however, will be dead and buried as soon as you see the bedazzling landscapes at the end of the road.
The resort offers both modern cottages and old log huts used by herdsmen in the summer, when they come up to the mountains from the villages of the Khulo Municipality to tend their cattle and make organic products like braided cheese, mountain butter, kaimaghi sour cream, and a dairy-based kuruti dish.
Adjara boasts special dairy production traditions. Local women process milk in a special milk-cream separator, and use the processed milk to make braided cheese, and store the cream, which later turns into what is known as kaimaghi. It tastes very much like sour cream, is quite filling, and usually enjoyed with mchadi cornbread.
As for kuruti, it is a true star, the pearl of Adjarian cuisine, a delicacy of sorts. It takes a lot of time and effort to make it. Kuruti uses soft nadughi cottage cheese, which is run through a strainer. Next, it is stirred in a mix of milk and corn flour, then kaimaghi is added to give the mix more elasticity, after which it is divided into small balls. The balls are sundried, a process that, ideally, takes about a month. Sundried kuruti can be stored for a whole year.
The population of mountainous Adjara is very hardworking, and they invest an enormous effort to put food on the table. That is probably why the dishes characteristic of mountainous Adjara are so filling.
How to get there: Beshumi is 7 kilometers from Goderdzi Pass.
Green Lake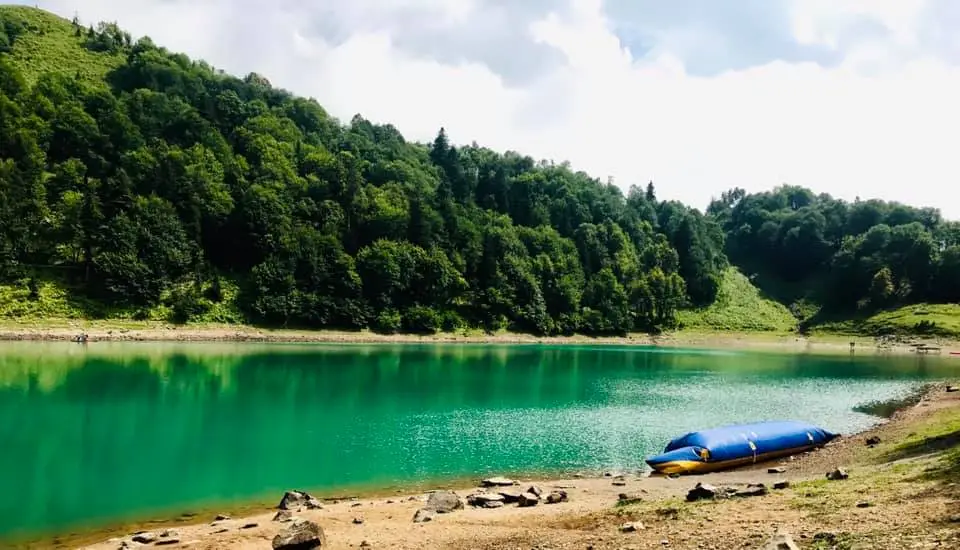 The road through Goderdzi Pass branches into four directions, one leading to Batumi, the second to Akhaltsikhe, the third to Beshumi, and the fourth to Green Lake, one of the most popular routes in mountainous Adjara. You will find plenty of camping and picnic areas around the lake. Resting by Green Lake and gazing up at the star-studded sky at night guarantees an unforgettable experience.
In summer, various folk festivals are held in mountainous Adjara. Shuamtoba is one such celebration, and guests from all over Georgia come to Beshumi to participate in it. Horseraces, folk songs, mountain cuisine, and many other exciting things happen during Shuamtoba.
You can plan your trip to include the Shuamtoba festival. It is up to you, though, because there are many other exciting places to discover in Adjara, many interesting people to meet, and numerous mouthwatering dishes to try.
How to get there: You can catch a cab for 25-30 GEL to get from Goderdzi Pass to Green Lake. If you are into walking, it will take you a few hours of contemplating a spectacular scenery.

Author: Manana Kveliashvili
Photos: Nino Narimanishvili, Khatia Kurua, Mtirala National Park
We Recommend