09.07.2018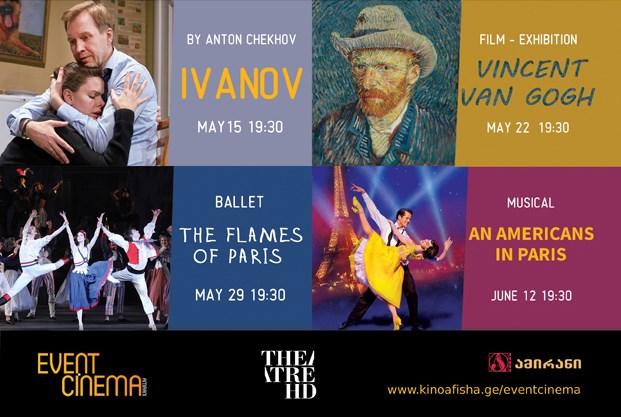 ც
Event Cinema - it broadcasts on screens of theaters the most worldwide known performances from the best theaters in the world: The Royal National Theater (London), The Shakespeare Theater "Globe" (London), The Royal Shakespeare Company (Stratford-upon-Avon), the Metropolitan Opera (New York) Bolshoi Theater (Moscow), etc.
Starring the most famous celebs: Benedict Cumberbatch, Ralph Fiennes, Helen Mirren, Stephen Fry, Mark Strong, Christopher Plummer, Tom Hiddleston, Jonas Kaufman, Gillian Anderson, Sienna Miller, Jack O'Connell, Ben Whishaw and many others.
The aim of the project is to enable each and every person to see on screens of cinemas masterpieces of the World Theater and fine arts, without moving from one city to another.
The best documentary films about artists and directors in art; the largest exhibitions of the last decade, have received a new life on the big screen – every detail of this is now in a brand-new format.
Critics and actors, historians and musicians unite thanks to the capabilities of the movie to discuss their favorite pieces of work and museums.
This is a unique opportunity to feel and experience the history of art in the cinema hall
Every Tuesday at Cinema Amirani