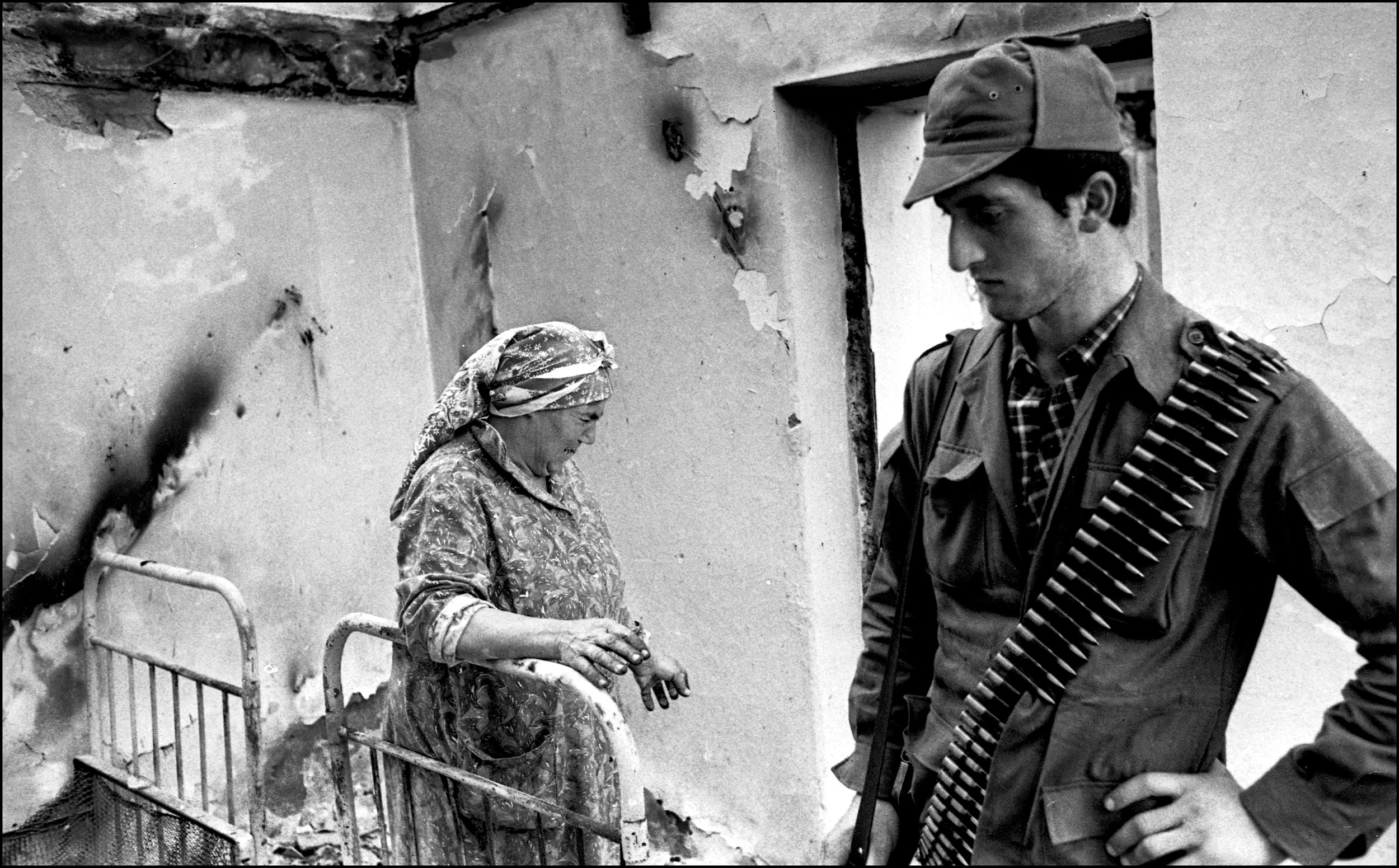 Haystack | Marina Znanova, Ksuisi
20.05.2021 | 6 Min to read
Marina Znanova, 59 years old. Ksuisi. Currently lives in Khurvaleti.
I didn't change my name or anything at all. You should be what you are. 
Ksuisi is my village in the Tskhinvali region. I was born there, raised there, married there. I am the mother of five. 
You're Ossetian? Go! That's it. That's how they came when Zviad lost the plot. I couldn't find my own mother and father when they were thrown out of the house. They had left for Ordzhonikidze. I only had four kids to take care of back then. When my house was at the head of the village I used to look over to my parent's cottage at the other end. I used to worry from there hoping they wouldn't kill them. I have a Georgian husband. My mother used to warn me, don't burn yourself, you still belong to Georgia. If I think about it, I still feel like I'm there day and night. I wish I could hear that the roads opened back up again today, I would run there on my bare feet. 
When we left in 2008, the bombs were already exploding. The flames would suddenly flare up. The whole police and army had come in. Man, we are going to die, we should go, I told my spouse. We were lying on the bed, something, some were lying on onion nets. They even took out cheese, ate it, they were starving. 
I came to Tbilisi pale. My hemoglobin levels were low, I lied there like I was dead, watching television when they announced that my village was razed to the ground. What do you mean, it was burned down ?My heart was crushed, how was my house burned?
My husband couldn't stand to lose the cows and didn't come with us at first. Then a bomb fell, he would crawl somewhere to hide, then another bomb would fall there, so he would crawl somewhere else. Towards the end, he spent the night in Tirdzinsi field on a haystack. He walked on foot to Igoeti and then police put him in the car and brought him to Gldani, to the 5th Micro. I watched from the road to Mereti how the house was in flames and was already burning, he said. One to two months later I went back there. There were some things left in the burned house, and Russians gave us a chance to get them out. 
My poor house. What did it do wrong?! When I went up there and those beds, I found my Sandro's shoes, half burnt, just thrown there. I almost died. 
_______________________________________________________________________
From the Series, "Recalling Memories - South Ossetia 1991/2008"
Text: Teo Kavtaradze, Nino Lomadze
Photo: Ella Avagimova