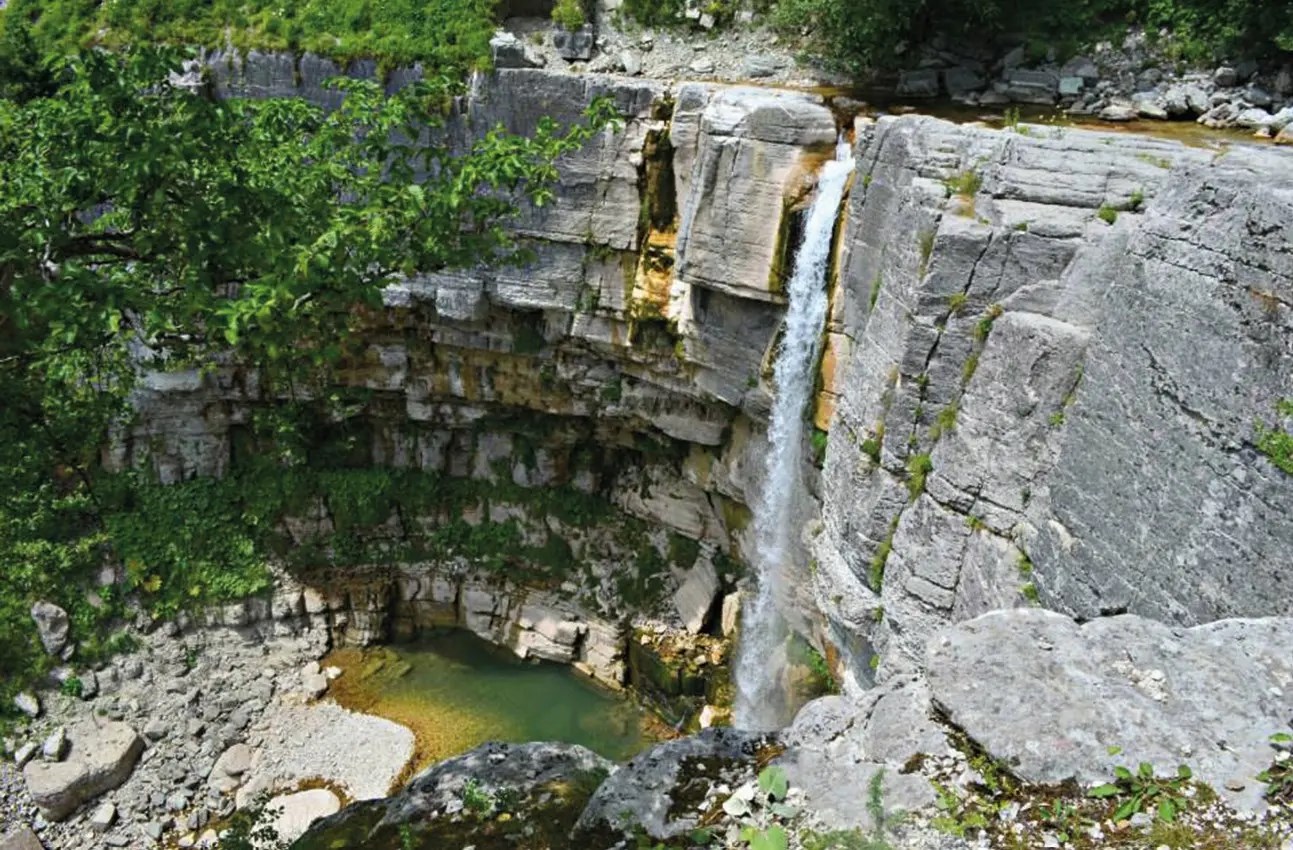 Let's Visit Okacse Canyon
22.06.2019
> Location: Khoni District (near village of Gordi)
> Distance from Tbilisi: 230 km.
> Travel time: 3' 45"
> Ticket price: GEL5 (GEL3 for students)
> Last public toilet: By the canyon path
* Definitely make a note of the ranger's number at the visitor center.
** You will follow the river valley and see Lomina Lake as well.
For a leisurely experience: There is a taxi to and from the canyon for 25 GEL.
For a rustic experience: It is 2 km to the canyon and the journey is possible on foot.
You can experience what it means to freefall at Okatse Canyon. While on the foot trail, visitors get lost in the thick layer of mist descending from the sky—and along the riverbed, in a corridor of cliffs stretching up to the sky where the sun's rays barely penetrate. You can touch a place that has been unchanged for centuries. Here, at this depth, you are all alone with nature.
The summer residence of Georgia's noble Dadiani family lies just 250 meters from the visitor center. Ruins of columns and arches, halls and salons still remain. There, you can get approximate concept of the garden planted by Babini and Zamberletti, the famous 19th century landscape architect and gardener.
Continuing from the Dadiani residence, you will see a balcony jutting out from a cliff. A two kilometer path paved with flagstones (with inclines and steps) leads to the balcony. From that vantage point, spread out below, the depth of the canyon ranges between 100 and 750 meters.
For the daring traveler, the sights don't end there – you can return to the visitor center and descend to the bottom of the canyon via the makeshift path. There is no man-made infrastructure, pavement, or steps – nothing but the wild forest taking you to the place you gazed fondly upon from above just minutes before.
After that, the intrepid wayfarer comes upon a three-level waterfall gushing from Askhi Cliff, located just five kilometers from the visitor center. The cascade of waterfalls streams down into the lake, from where the water flows into the river at the bottom of the canyon. In three stages, the height of the waterfall is as follow: 25, 70, and 35 meters.
Places to eat:
> Pack your own picnic to enjoy in the natural setting
> Stalaktida Restaurant – in the village of Kvilishori in Tskaltubo district (by Prometheus Cave). The most delicious Imeretian dishes are prepared in an authentic Imeretian oven. 5-6 minutes by car from Tskaltubo.
> A family restaurant above Kutaisi (towards Motsameta) in the village of Sormoni, where you can feast on authentic Imeretian cheese. (Hint: try the local delicacy with a side of small blackberries.)
Places to spend the night:
> In your own tent
> In a family hostel near the canyon or in nearby Tskaltubo (GEL40-50)
> At Tskaltubo Plaza (GEL130-200 for a two-person room)
We Recommend