09.07.2018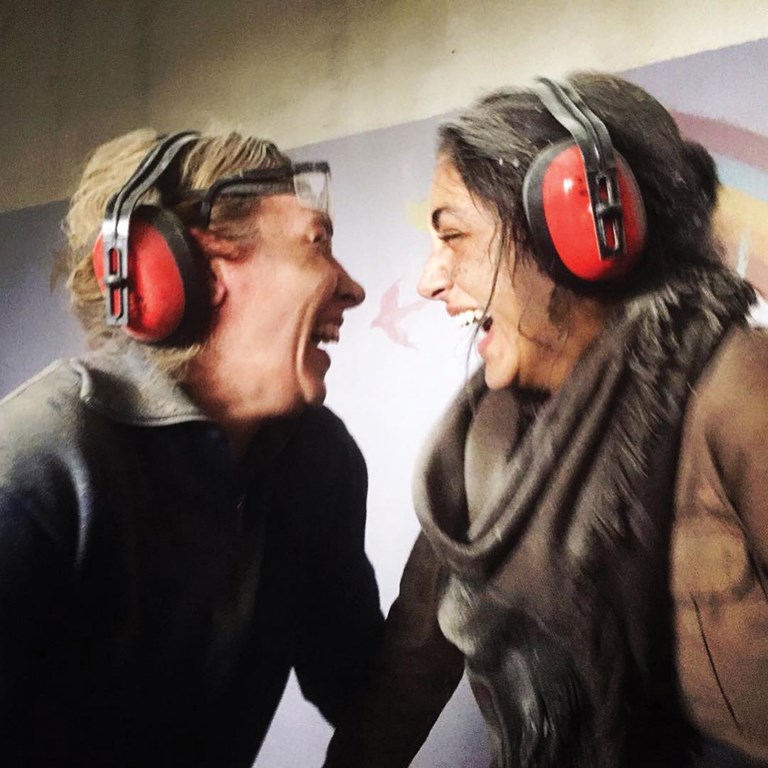 Girls of the Sun: A Tale of Real Heroines
Georgian moviegoers know Golshifteh Farahani from Paterson (2016) and Pirates of the Caribbean: Dead Men Tell No Tales. But we also know that before appearing in the last of the Caribbean franchise and the latest Jim Jarmusch feature, the Paris-based Iranian-born actress has collaborated with the likes of Ridley Scott, Marjane Satrapi, Neil Burger and two-time Oscar winner Asghar Farhadi.
Among the miscellaneous roles the 34-year-old actress has played are a number of Kurdish women who brave wars (The Tear of the Cold), fundamentalism (Half Moon) and the hardships of immigration (Si Tu Meurs, Je Te Tue).
So, it may not come as a surprise realising that many in her homeland and elsewhere in the world mistakenly think that Golshifteh has Kurdish origins. She can speak some Kurdish, thanks to language training she has had for her roles.
Golshifteh's latest work, Les filles du soleil (Girls of the Sun), an effort in war film genre by French filmmaker Eva Husson, features her once again in a Kurdish role - this time as Bahar, who is the commander of a female battalion fighting against extremists. Bahar recalls the time when she was captured by the assailants during an interview on the battlefield with a French war reporter, played by Emmanuelle Bercot.
The shooting took place in different parts of Georgia last October and November. Several European film companies from countries such as France, Belgium and Switzerland, as well as a Georgian company, have been involved in production of Les filles du soleil.
I had a chat with Golshifteh and the film's producer Didar Domehri while they worked on location in Gachiani village southeast of Tbilisi during the last week of November.
Q: How was your reaction when you got the offer from the filmmaker and producer for the role you have played in Les filles du soleil?
GF: I felt absolutely thrilled when I heard the story from Eva. There wasn't even a finished script yet, but I said 'definitely! I'm in!' I loved the story.
Q: How did the shooting go overall? Tell me about your experience acting in this movie.
GF: It was great working with Eva and Didar and the rest of the crew. I can surely say that this group is one of the best I have ever worked with since I started acting more than 20 years ago.
Q: Many viewers might tend to compare Bahar with other Kurdish girls you have played previously. Do you see any resemblance?
GF: My role in this movie is different from all other ones. To this date, none of more than forty films I have appeared in has engaged me physically and mentally as much as this one.
So, about Bahar, yes, she is a commander, and you'll see in the movie how she rises to the rank of a commander. But she is different in a way that, maybe, is about her past; about what happened to her before she decided to command a battalion of other Kurdish women.
Q: So, that's how you think of Bahar, that she is different. But can you say how different?
GF: Honestly, I had been waiting for such a role for many years because I think little have been told about the sufferings of women in this region and their fight for survival. I gotta tell you how surprised I was when I read the script and realized that a European woman (Eva Husson), who has spent most of his life in Spain, France and the US, had written such a detailed screenplay about a subject that, at the first sight, didn't seem close to her. You know, the story takes place in a different region, so it is absolutely amazing, the way she has developed this and has researched for her story.
Q: Is there a feminist line in the plot? As you said, it is mainly about female freedom fighters, so ...
GF: No, I don't see it that way. The protagonist here is a young woman, and she is a formidable fighter indeed. This is about how such women live under brutal conditions. It's about life; it can happen anywhere, any time.
You know, I have always cared about women's issues in whatever I do in arts, and I am proud of it, but I don't think that just because we are telling the story of some women from the point of view of women this should translate into feminism.
Q: What is your prediction of the film's reception among critics and general audience?
GF: First, I believe that the world's cinema today badly needs films such as Les filles du soleil. I think this movie will go so far as to connect with many people around the world and to be acclaimed everywhere. I am very optimist about its reception.
Q: How did you find working in Georgia and with Georgians?
GF: It was a great experience. This is a beautiful country with exotic places to explore. The cinema industry here is also progressing, and I think if they continue working hard, Georgia will be able to upgrade itself to the level of European cinema industry over the next decade or so. They just need to be a bit more organised!
Q: So you will come back to Georgia as a tourist?
GF: Of course yes!
Domehri: Georgia has a lot to offer to foreign fimmakers
Didar Domehri, the producer of Les filles du soleil, is president of the French company Maneki Films.
Q: Why did you choose Georgia for shooting?
DD: Well, we did some field research and consulted with locals, who told Eva and I that we can take our filming to Armenia or Georgia, because in these countries Kurds are a significant minority and also because of the geographic similarity with the locations we were looking for.
To be honest, I felt astonished while we were location-hunting in Akhaltsikhe - and also here in Gachiani - to witness how similar these places are to what was written in the script. The Georgian group collaborating here with us are also talented people, so we are totally satisfied with our choice!
Q: Did you benefit from Georgia's tax incentive programme for film production?
DD: Yes, we did, and it was very encouraging. The "Film in Georgia" programme, in my opinion, can be a good motive for foreign filmmakers to bring their projects, depending on their stories of course, to the diverse landscapes of this beautiful country.
film is in Official Selection of Cannes Film Festival Competition Program in 2018.