07.07.2018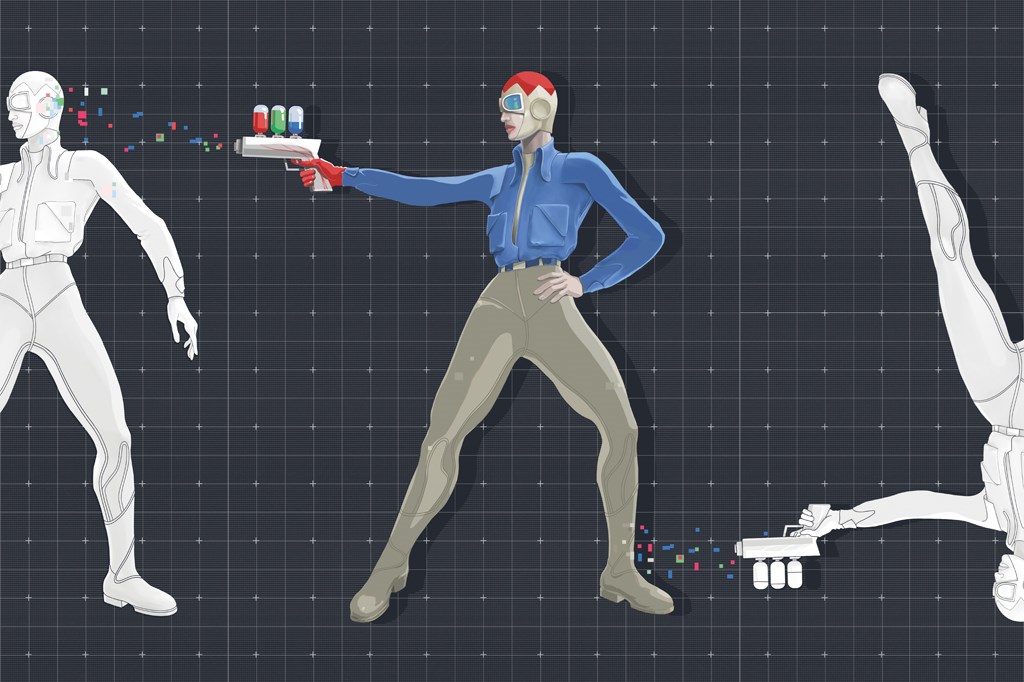 Old Superheroes Evoked in a New Time: How Petre Otskheli has Reappeared in the Intellectual Mainstream
Nowadays, whenever you walk down the streets of Tbilisi, halt at a bus stop, pass by a shop window, or look at one of the most beautiful wall of the city along the Rustaveli Metro, you will see similar yet different artistic figures that are referred to as the 'Flying Painters'.
Thanks to "arts brought into street", even residents of Tbilisi that are not well-versed in the arts or theater know Petre Otskheli – the author behind these characters. Consciously or subconsciously, upon viewing his work, people are filled with the charming energy of freedom that Otskheli's characters radiate.
Otskheli is a Georgian-Soviet painter and set designer. During his short life, he produced scores of scenic paintings and sketches and owing to his exceptional signature, has opened up entirely new spaces to Georgian paintings obsessed with Soviet oversimplification. The artist who fell victim to repressions had been forgotten for decades. Knowledge about his works was not passed from generation to generation.
That situation finally changed in 2017, when, together with the Art Palace, TBC Bank joined the Otskheli anniversary campaign. The mainstreamification of Petre Otskheli's works became the concluding part of TBC Bank's long and multi-component campaign. This process commenced in the spring of 2017, with the restoration of Otskheli works. His scenic decorations and costume sketches and rough sketches designed for Georgian dance, kept at the Arts Palace, were restored for the first time in 2017. Many of them had been damaged due to being stored in poorly maintained conditions during Soviet times. The restored pieces included Otskheli's sketches for important plays staged by Kote Marjanishvili such as Othello and Master Builder Solness. During the restoration process, some of his framed works were opened for the first time and other previously unknown works were revealed on the reverse side.
Otskheli's updated collection was exhibited at TBC Gallery in December of 2017, offering viewers the esquisses discovered on the reverse side of his works for the first time. Through virtual reality and other new technologies, an educational component was added to the exhibition. Using VR glasses, visitors were able to view the exhibition of Petre Otskheli's characters in 3D, while children, using a special device, had an opportunity to paint Otskheli's figures and characters in space. Cases where the innovative use of modern technologies for perceiving artistic heritage is rare in Georgia – this despite the fact that such a method is especially attractive for young people since modern media enables them to more easily assess exhibits of past eras.
The development of modern technology and supporting culture is a prominent direction of TBC Bank's corporate social responsibility (CSR). Perhaps that is why the bank is constantly on the lookout for more opportunities to join together the visual arts with modern media. Otskheli's interpretations were produced within the digital arts, animation, sound, video and other formats. For this, TBC Bank used Project 12, developed last year to help support young artists and modern visual arts.
It is often noted at present that Petre Otskheli, the Georgian scenic designer of the early 1900's is a greater figure than simply a set painter. He possesses a profound and clairvoyant intellect, which breaks the boundaries of time and remains perfectly contemporary well into the 21st century.
Young artists engaged in the TBC Bank project have overcome this very circumscriptive assessment and have endeavored to undertake a deeper study of Otskheli's works – what is Petre Otskheli's modernity based on? They answered this question with original works, with their own style and aesthetics.
"This project has two important goals. We have brought together young artists unknown to many and have attempted to promote their work to a wider audeince. We have shown society that these are the young people who create contemporary art, and in absolutely new formats. Hence, it became our second goal to also show new, original artistic directions that are emerging slowly in Georgia, art that represents an integral part of young artists' lives," notes Nina Akhvlediani, TBC Bank's curator.
Digital arts, graffiti, neon, 3D arts, sculptural installation – these are the creative artistic directions in which Petre Otskheli's works have been revived by contemporary artists and shown in new form, respectively. They have infused new content and context as well. According to Akhvlediani, the wish for individual interpretations based on Petre Otskheli's works comes naturally to artists. Video art based on Otskheli is an example of this. As part of the project, sound and video art were linked, resulting in an original cooperation between artist Nikoloz Kapanadze and musician Gacha Bakradze. Video art created according to Petre Otskheli's works, with its sound, is a prominent work under the project.
The same can be said about animation – this is the first case when Petre Otskheli's scenic design has been revived.
"We believe that the above-mentioned works inspired by Otskheli will actually open up a creative horizon for our [artistic] youth, will make them realize what art is in modern times; which media they can work in and how artistic heritage can be translated into modern formats," Akhvlediani says.
Out of all of Petre Otskheli's works, contemporary artists find the Flying Painters characters especially interesting. Young artists portray them as superheroes – such are, for example, works by Mariam Sasha and Temo Machavariani. The posture, resolve and energy these characters emit is naturally associated with modern times and especially – with superheroes.
A sculptural installation produced according to one of Otskheli's scenic designs has also been included in the project. The shapes of that time, incredible models of constructivism, compel architects today to use Otskheli's scenic design and forms in modern architecture as well. Soon we will see an example of this in Tbilisi in the form of a multi-functional installation inspired by Otskheli and authored by Gigi Shukakidze. The installation will be placed within a recreation zone.
"This project enables the artists to express and realize their most daring ideas. We are happy that we have brought together creatively charged artists with versatile interests and free minds," notes Akhvlediani.
TBC Bank has turned 25 years-old. Over these past 25 years, supporting culture has always been an integral part of the brand. Selecting Petre Otskheli as the main cultural event for the bank's anniversary has a logical explanation: with this, TBC Bank underscores its concern about cultural heritage, as well as its intent to employ modern arts in its new understanding and interpretation.
As for the artists engaged in Petre Otskheli's project, they perform a double mission: they introduce themselves in arts, often for the first time publicly and moreover, some of them demonstrate the potential of media not yet recognized as part of the arts in Georgia.