07.07.2018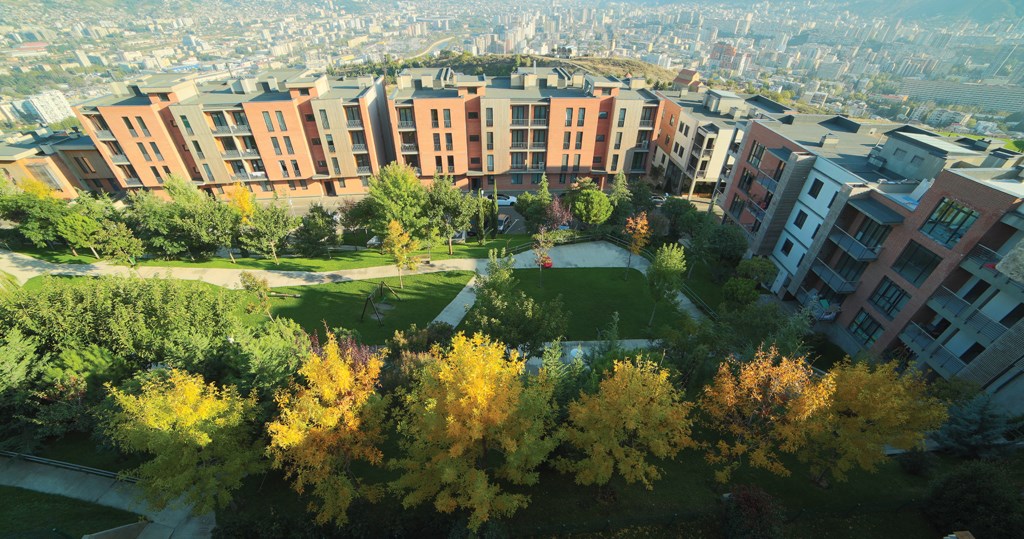 Town, mountain and sea: three projects changing the urban development standard in Georgia
At 22 Chavchavadze Avenue, there is an ordinary house common to the Vake district. Although, lately its façade has been attracting special attention – pert creepers cover the entire wall – this building is the new sales office belonging to Lisi Development and Kokhta-Mitarbi Resort. The company prepares clients from the center of Tbilisi for green space, which is a determining feature of the Kokhta-Mitarbi and Lisi Green Town concept and the main source of comfort. Anyone stepping into the building covered by a vertical garden will be able to, according to their wish and without leaving Tbilisi, find themselves either in Lisi Green Town or Kokhta-Mitarbi residential spaces and view all the interior details or façade decoration materials they will find in those locations. For easing the process, the showroom is divided into two spaces – one fully mirrors the interior of Lisi Green Town apartment, while the other is identical to Kokhta-Mitarbi Resort residential apartments.
These two most important development projects in recent years are being implemented by the same group. The construction of the Lisi Green Town residential complex spanning up to 400 hectares near Lisi Lake commenced in 2010. As a result of the gradual construction process, the complex is acquiring a very distinct appearance. Meanwhile, the Kokhta-Mitarbi Resort four-season complex comprising international standard hotels and residential apartments is nearing completion in the Borjomi district. Despite being in two different locations, these projects have many individual commonalities.
A unified Master Plan can be brought as an example. This plan protects their clients from apartment buildings being erected without planning from spoiling their view and mood: in both places everything is planned with the utmost meticulousness and most importantly, according to the 80/20 concept implying that just twenty percent is dedicated to buildings whereas the rest 80% is used to build infrastructure and develop recreational areas and greenery.
For example, Innocenti & Mangoni Plante, a leading Italian company is supplying the Green settlement in Lisi with trees, bushes and decorative plants. This company tends to vertical greening of Lisi Green Town that has commenced nearby on the territory of the green town. This process envisages planting thousands of plants adapted to the local climate, paving ground to creating an absolutely unique green micro-environment in Lisi over time.
In the case of Kokhta-Mitarbi too, highly-qualified foreign and Georgian experts have worked on the development of the resort. More specifically, the master plan for this four-season complex was designed with the participation of famed French companies – Geode and Compagnie Des Alpes, i.e., with the involvement of the specialists with experience in designing master plans for various alpine resorts.
The prominent architecture is another commonality Kokhta-Mitarbi Resort and Lisi Green Town share. For example, the company has invited UNStudio, one of the leading architecture groups in the world to work on residential Building Lisi Green Tower, witch will became a new landmark of Lisi Green Town. The group, whose record includes the design of the Mercedes Benz Museum in Stuttgart, currently attaches huge importance to the construction of Lisi Green Town, since this is their ongoing project. UN Studio envisions this new complex as a vertical "neighborhood in the sky" which, along with the ultramodern architecture, will have traditional Georgian balcony elements and through verandas, residents will also enjoy shared and individual outdoor spaces.
Another feature that Lisi and Kokhta-Mitarbi have in common is the impeccable quality of their construction and their innovative, energy efficient construction approaches. For example, in the Kokhta-Mitarbi Resort complex, apartments are turned in with fully fitted interiors, furniture and equipment, while the area will be organized according to integrated architectural style. The so-called Ski in Ski Out concept renders rest, recreation, and living in this complex, especially comfortable. This concept ensures that both residential apartments and hotels are directly connected to the ski slopes, further easing skiing and proximity and the enjoyment of nature.
Hotel and Apart Hotel is expecting visitors starting this year. At present, the resort zone comprises the space at the foot of Kokhta Gora. A similar zone will be devel-oped in Mitarbi as a next step. Residential apartments at the hotel are built while taking into consideration the local climate and green technologies for energy savings. All the buildings are energy efficient. The company plans to use solar energy for heating and air conditioning. Maintaining the desirable temperature in a room and the reduction of utility costs are also facilitated by modern wall insulation and high-quality insulation materials used on the façade that will ultimately be dressed in wood.
These superiorities make Kokhta-Mitarbi attractive for rest, recreation and living all year round, not only for "residents with a green mindset" but in general for all who value rest and recreation in a green, healthy environment surrounded by medicinal trees and plants, serenity and harmony – for families, fans of winter and summer sports, as well as tourists. Closed parking lots, restaurants, cafés, entertainment, recreation and leisure zones will be organized throughout the grounds.
Meanwhile, the same healthy and idyllic "micro-climate" can already be felt in Lisi Green Town. Quietude, a feeling of security and harmony are sure to linger with everyone for a long time. Although, this is not solely due to land plots covered by lawns and green fields, order and quietude, clean and smooth roads and pathways. This is partially due to the above-mentioned "green concepts"; for, they prioritize tending to and the protection of nature, including through the use of energy efficient materials in construction, setting up separation garbage bins throughout the area and the maximal use of natural resources – such as, for example, collecting rain water for irrigation. According to Lisi Development, inhabitants of their residential houses save 30% on costs thanks to high energy efficiency standards.
Similar "green" approaches will be maintained in Lisi Development seaside project by the Black Sea coast. This will be a hybrid complex comprising hotels, residential apartments, restaurants, cafes and various entertainment zones. In this case too, modern architecture will enjoy a leading role. The world's leading design consultants in hospitality industry, with over 70 years of design experience WATG will attend to the appearance of the complex; and with this, Lisi Development will introduce new standards in the Black Sea resort zone.