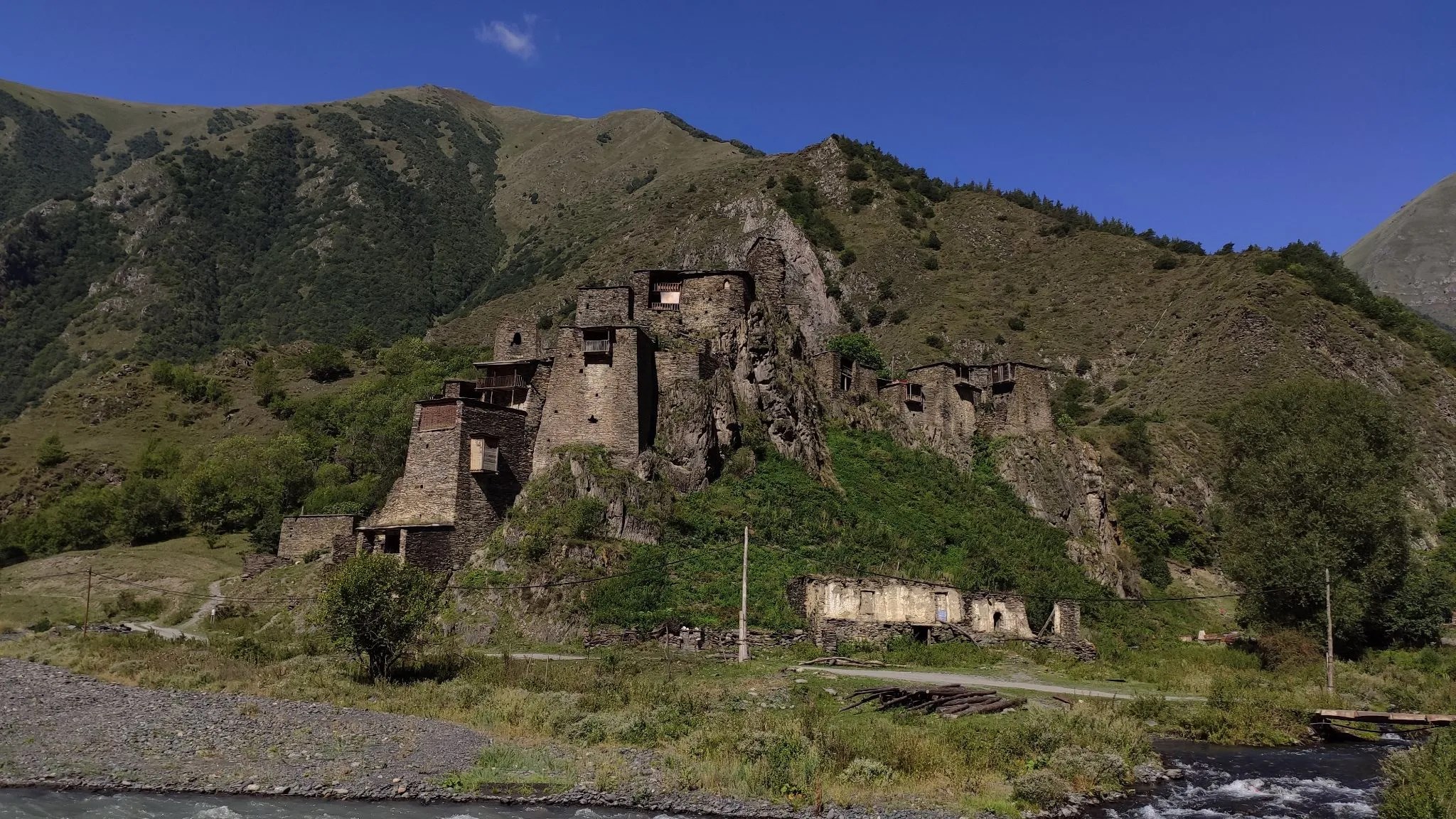 Khevsureti | A Trekking Paradise of Medieval Towers and Natural Beauty
19.08.2020 | 10 Min to read
Fact: Ever since the time when, according to tradition, Saint Nino converted Georgia to Christianity, this most beautiful historical region together with Pshavi has been known as Pkhovi. The name Khevsureti means "a place with ravines" and gained ground later in the Middle Ages. Pkhovi was located at the border between the Kingdoms of Kartli and Kakheti. According to Georgia's modern-day territorial division, Pshav-Khevsureti is incorporated into the Dusheti Municipality of the Mtskheta-Mtianeti Region. Pshavi is found on this side of the Caucasus, while Khevsureti is divided by the Greater Caucasus Ridge into two parts: Piraketa Khevsureti (Nearer Khevsureti) and Pirikita Khevsureti (Further Khevsureti). Barisakho is the center of Piraketa Khevsureti and Shatili is the main settlement in Pirikita Khevsureti. We also find Arkhoti in Pirikita, a mesmerizing place that, because of its inaccessibility—the road was paved only two years ago—has relatively few visitors.
 Khevsureti is a must-see destination!
Allocate at least 2-3 days for a trip to this exotic region.
 Pshavi consists of 12 communities, and each has its own shrine. Lashari is the main all-Pshavi shrine.
At Ortskali (meaning "Two Waters" as it's at the confluence of the Khevsureti Aragvi and Pshavi Aragvi Rivers), the road branches into two: one leading to Shuapkho and Ukana Pshavi (the Pshavi Aragvi Gorge above Ortskali), and the other, which is also on the main road, to Khevsureti.
The road to Pirikita Khevsureti lies through the Datvisjvari Pass at 2676 meters above sea level, one of the many passes over the Caucasus. Although the distance from Zhinvali to Shatili is only 100 kilometers, it takes about 4-5 hours by car. What starts as an asphalt pavement later turns into a regular dirt mountain road.
Directions: First, you head west from Tbilisi, and turn north after passing Mtskheta. Follow the road to Stepantsminda (Kazbegi), which, after Zhinvali, turns right toward the village of Chinti. This way, the Zhinvali Reservoir will be on your left. Next, the road stretches along the Pshavi Mtkvari River. You will pass through Pshavi's villages, including the region's center, Magharoskari.
Road and Travel
It is also possible to travel to Khevsureti by air, and some hotels and travel agencies offer helicopter services, something relatively expensive, of course, fluctuating between 500 and 1500 USD. Despite its difficulty, however, this road has a unique charm about it, and traveling to Khevsureti turns into an adventure in its own right.
You can also take a smaller vehicle, preferably something all-terrain, or a minibus. You can just rent a car in Tbilisi, of course, but it is preferable to hire an experienced driver familiar with this road.
In the same vein, it is also advisable to travel through Khevsureti in the company of a local Khevsur or a guide knowledgeable about this region. After all, Khevsureti is the land of legends and myths, devi monsters and children of God. Even today, one comes across two types of footpaths reserved exclusively for men and women, respectively.
As the Georgian proverb goes, "Wherever you go, make sure you wear their traditional hat"—something along the lines of "When in Rome..."—a rule that tourists probably should take note of. In some places, relevant signage is posted, and sometimes your guide will direct you.
A piece of Advice: Before heading toward Khevsureti, visit the house museum of prominent Georgian writer and humanist Vazha-Pshavela in the village of Chargali in Pshavi. Google the author's name and enjoy his unique texts, prose, and poetry alike, which are available in several European languages.
You can get to Shatili by car only when the Datvisjvari Pass is open for traffic, that is, from May through October, though sometimes it's still impassable until later or earlier.
The newly paved road to Arkhoti and Pirikita Khevsureti is operable only in summer. Information about bad weather and road-related problems is usually available at travel agencies, or you can call the Road Department hotline at (995 32) 2 31 30 76
You can also enjoy a horseback tour in Khevsureti, a service offered by several hotels. To book your horseback-riding adventure, you can contact Dato Chincharauli (Jalabauri) at 599 533 379.
Summer is the time to travel to this amazing region.
In winter—or, more precisely, until the road opens—a helicopter is the only way to make it to Pirikita Khevsureti (both Arkhoti and the Shatili Community). The local population, too, rely solely on civil and customs helicopters.
In winter, public transport, buses or minibuses, can take you only as far as Barisakho, or to the center of Piraketa Khevsureti, or sometimes even further up to Gudani.
In summer, Shatili-bound shuttle buses operate from the Didube Bus Station. Last year, a one-way fare cost 20 GEL, and a ride to Barisakho was 5 GEL. The trip takes 3 and 5-6 hours from Tbilisi to Barisakho and Shatili, respectively. At the same time, because of the rapidly increasing altitude—Tbilisi is about 400-500 meters above sea level while the Datvisjvari Pass is almost 2700 meters—periodical stops are recommended for acclimatization. Add to that the urge to contemplate the spellbinding views and to take pictures, which also takes time. Consequently, if you leave Tbilisi at 8-9 AM, you will likely make it to Shatili at 3-4 PM, or even later.
Even today, many of the villages that have not been left depopulated remain without access to any major roads suitable for driving, which leaves walking or horse-riding as the only options in many parts of the region. Despite the hardship and tough living conditions in these villages, you may still come across indigenous residents, especially in summer.
Besides these villages, trails offer passage from Khevsureti to the regions of Khevi, Gudamakari, Pshavi, and Tusheti. There are also trails to Chechnya and Ingushetia, but since there are no official checkpoints in this section of the Georgia-Russia border, you cannot actually cross over.
The local trails are especially exciting for trekking tourists. Some of the trails, such as the one from Tusheti to Khevsureti via the Atzunta road, have clear markers to enable you to walk on your own. Still, we recommend taking this route in the company of an experienced guide.
Some routes are not as frequented, so the trails have no signage, or the other way around, because there are no markers, these routes are not as popular.
Khevsurs on the other side of the Caucasus
There are almost 30 villages on this side of the Caucasus in the Barisakho Community. Compact settlements are found on the side of the road and at the community's center, also in Korsha and Gudani, with public institutions operating, such as schools, kindergartens, outpatient hospitals, and border police stations. Elsewhere, in places away from the main road, only a handful of families or even a couple of people winter over. Some even practice transhumance, meaning that they stay in a Khevsur village in summer, but winter over in lower valleys.
Despite the hardship and lack of roads, some of the population opts to winter in Shatili, Mutso, Ardoti, Andaki, Khone, and the Arkhoti villages of Amgha, Akhieli, and Chimgha. However, population may a bit strong of a word here, because, in reality, there may be just a couple of households, or even one person. Still, what matters here is that this handful of people keeps the village alive.
Dato Chincharauli — who is also known by his other last name, Jalabauri—is one of those rare youths who stay in the mountains throughout winter. His household was one of the first to set up a family-run hotel in their own ancestral tower. Dato, who used to work in a school, now aspires to develop equestrian tourism.
Eldar Chincharauli is also a young man working as a ranger for Pshav-Khevsureti National Park established a few years back. He also supervises the Shatili HPP. The park employs several other rangers. Eldar's house, nestled amid floral richness on the Shatiliskhevi Riverbank, never lacks visitors eager to rent a room.
Shatili is a village populated by clan Chincharauli. Everyone here is Chincharauli, except for daughters-in-law keeping their maiden names.
Mzia Tziklauri-Chincharauli manages a boarding house and one of the busiest family-owned hotels, establishments that are almost always booked.
A school is an organization that best reflects the future of mountainous regions. The existence of one is a sign of hope that a given village is alive and will survive. There are two schools in Khevsureti. The Barisakho School serves 70 children from the villages on this side of the Caucasus. The Shatili School has only six students, two from Shatili proper and four from Mutso, the only girl among which, second-grader Keto Daiauri, is Queen of Mutso.
Almost ten teachers, locals and those from different regions of Georgia engaged with the Teach for Georgia program, are in charge of the students' education and upbringing. It is impossible to walk 12 kilometers from Mutso to Shatili every day, so the pupils from Mutso stay in the school's boarding house from Monday through Friday. Boarding houses operate in Barisakho and Pshavi's Magharoskari.
Mikheil (Mikha) Chincharauli is Shatili's family physician, and everyone calls him Dokhturi. He practically never leaves Khevsureti. Sometimes, he finds himself equipped with nothing but his bare hands, still managing to save the lives of his fellow villagers or others from the gorge. "In winter, we rely only on God and Doctor Mikha," the residents of Pirikita Khevsureti often say. In the case of an emergency, Doctor Mikha can request a helicopter.
The school and boarding house, the outpatient hospital, Pshav-Khevsureti National Park with its infrastructure taking its first steps, also the Administration of the Border Police are the public institutions that keep the remaining Khevsurs from leaving the region. In summer, they are joined by those self-employed in the tourism business. People come up here from the lowlands, and almost every previously locked house opens to turn into a family-run hotel.
A school is an organization that best reflects the future of mountainous regions. The existence of one is a sign of hope that a given village is alive and will survive.
What to see
You may hear in the villages that "Khevsureti stretches even beyond Shatili."
Every village is special in Khevsureti. Unfortunately, there are many depopulated settlements in this region. Because of the difficult living conditions here, or the policy of the Soviet authorities, this place has been practically depopulated, with only a couple of people, mostly elderly, living in some villages, though there are still young people here and there.
Every village and depopulated settlement is certainly worth visiting, though.
There are only a few Christian churches in Khevsureti, mostly from the 19th century (in Roshka and Ardoti) or the 21st century (in Barisakho and Shatili). On the other hand, the region abounds with jvari-khati shrines and traditional houses of prayers of highlanders, small schist-covered religious buildings where traditional rituals are held during khatoba festivities.
Gudanis Jvari, the main shrine of Khevsureti, is located in Gudani in Piraketa Khevsureti, a few kilometers from Barisakho.
In July, this religious monument—and other shrines, be they Pshavi Lashari, Iakhsari, Gogolaurta, Khoshara, or individual shrines in every village of Khevsureti—holds khatoba festivities. The khatoba is a movable feast, depending on when in a given year the Feast of the Apostles Peter and Paul is celebrated. In Pshavi, for example, the Lasharoba Festival starts on Saturday following the Feast of Peter and Paul and lasts three days. In Khevsureti, the feast's date and duration vary. Travel agencies knowledgeable about Pshav-Khevsureti and apt guides usually have information on such festivities.
For khatoba festivities, Khevsurs living in the plain also come to the mountains. Beer is usually brewed, livestock slaughtered, and—by all means—khinkali dumplings cooked. Kada sweetbreads, ketseuli meat-stuffed double-crust pies, and pkhali vegetable dishes are carried into the shrine.
Women do not enter the shrine, neither do men who have not fasted and duly prepared.
Toward the end of tourist season in Shatili, in August or September, the Shatiloba holiday, including live performances, is celebrated.  Surviving from the communist period, this holiday continues to be observed.
In Khevsureti, it is strongly recommended to visit the Museums of Ethnography and Local History in Korsha and Shatili. Both preserve ethnographic and archeological materials reflecting life in the region.
Artist Shota Arabuli spent years collecting ethnographic materials in the villages of Piraketa Khevsureti. Through his and his friends' efforts, a museum opened in 2005 to display artifacts from the 18th-19th centuries, such as talavari chainmail, weapons and various tools and implements, kitchenware, furniture, photos, and others.
To visit the museum, your guide must inform Shota or one of his family members in advance.
Arabulis Arthouse—Art-Based Social Enterprise
This enterprise was also established by the Arabulis. It seeks to promote Khevsur traditions and handcrafts. 
Here you can buy Georgian, namely Khevsur, products based on traditional motifs, such as bags, embroidered belts, handcuffs, calico socks, clothing, wooden chests, jewelry, and souvenirs.
You can also request woodcarving and embroidery masterclasses.
Before crossing the Datvisjvari Pass, we recommend dropping by the Colored Abudelauri Lakes. The village of Roshka, at 1800 meters above sea level, is located about 7 kilometers from the main road, and it is here that the trail to the lakes starts. But first about the village road: you turn left off the main road, and head uphill for quite a while. To get to Roshka, you can catch a ride in a jeep or a minibus, but not any bus because not all drivers are up to that ride, and from Roshka, another road, now suitable for vehicles, leads to Arkhoti, a less developed tourist destination in Khevsureti. The Asa Gorge incorporates three villages: Chimgha, Akhieli, and Amgha, with only five households remaining in all three.
The Abudelauri Lakes are a part of the Pshav-Khevsureti National Park. On your way to the park, you will come across the enormous Roshka Stones, a natural monument of national importance. The Blue and Green Lakes are seven kilometers from Roshka, with a hillock separating the two, and nine kilometers total separate the White Lake from the village. Alternately, a shortcut passes through the side of the Arkhoti road.
Proceeding further beyond the lakes and over the pass, you will find yourself in the village of Juta, in the Kazbegi District. This trail with comprehensive signage is frequently used by both Georgian and foreign tourists traveling in either direction, though it's much easier coming from Juta than going there.
The lakes are located at 2600-2800 meters above sea level, at the foot of the surrounding peaks.
Besides fans of trekking tourism, these peaks, including both of their faces, are extremely popular among mountaineers. Chaukhebi boasts summits like Mukhadze, Tikanadze, Takaishvili, Rcheulishvili, Javakhishvili, TSU, Aghmashenebeli, Vazha-Pshavela, and others.
The Chaukhi peaks are perfect for both rookie and seasoned alpinists. In summer, numerous mountaineering camps are set up on both faces of the peaks, especially on the Kazbegi side.
You can schedule a one-day tour to the Abudelauri Lakes, even starting from Tbilisi. A good walker can visit all three lakes in one day, and an average hiker should be able to see at least two. Still, we recommend allocating two days for this adventure, either camping or renting a hotel room in Roshka or Barisakho-Korsha.
On your trip to the lakes, it is advisable to wear boots or at least durable sneakers. Make sure you grab warm clothes and a good raincoat, because sunshine may suddenly give way to rain or even snow. Ideally, you should carry a bottle of water, even though you will come across numerous springs and rivers with potable water on your way to the lakes.
Tourist season here lasts from May through September. Extreme sports fans, though, can have fun even in winter.
You can enjoy the sight of these lakes on your way to Shatili, among other places. If you are not into lakes, or unprepared to walk a 14-kilometer route, you can head on from Korsha to Pirikita Khevsureti. Again, the road stretches along the Khevsureti Aragvi Gorge toward the Datvisjvari Pass. Forested landscapes gradually turn into subalpine and alpine grasslands, and further up in the mountains there are rhododendron meadows, which blossom around the Datvisjvari Pass and Abudelauri Lakes from May to June.
After Korsha, you will pass through the villages of Gudani, Biso, and Khakhmati. The further up you are, the slower the car will go, and soon you will reach the pass. It is customary among the highlanders to raise at least three toasts at Datvisjvari, one to the Lord and the jvar-khati deity, the second to the departed, and the third to the guardian angel of travelers.
Beyond Datvisjvari, as we enter the Arghuni Gorge, lies the North Caucasus.
Further down the road, you will find the now depopulated villages of Lebaiskari and Kistani with surviving defensive towers available for viewing.
From this point onward, the road stretches along the Arghuni Gorge, with occasional narrow canyons. Another descent and you will find yourself in a place known as Guros Natsveturebi, Guros Tsremlebi, or Shatilis Natsveturebi. Another gorge starts to your left to lead what used to be the village of Guro populated by clan Gogochuri. Today, it is desolate, without even a road.
You probably cannot wait to see Shatili, and you are almost there!
At first, you encounter Kachu Castle, and then the tower village of Shatili appears out of the blue, at which point it is customary to stop for a photo session. These views caught on camera and emotions alone make it worth traveling here. Before crossing the bridge over the Arghuni (Argun) River, keep in mind that women are not allowed near the local shrines, so you must walk slightly below on the riverbank.
Shatili is built on the spot where the Arghuni and Shatiliskhevi Rivers merge. Steep cliffs tower over one bank of the Shatiliskhevi River. The village's towers here served as both fortifications and dwelling places.
You can enter this tower village from the side of the river below or via the New Shatili Village built at the end of the 20th century above the original settlement.
The Soviet authorities spared no effort to depopulate the mountainous areas. In the 1950s, many residents of Shatili, similar to many other villages, were resettled in the country's plains. Decades later, however, a revival started in the mountains, with many towers fortified and rehabilitated, and the modern New Shatili Village was built. It was in the 1980s that some of the previously resettled Chincharaulis returned from the lowlands.
Today the towers are cherished historical monuments, and almost none are used as residences. Some are house museums and others are used as seasonal family-run hotels.
Even in the 20th century people only spent summer in Shatili and wintered over in a settlement some eight kilometers away, in the gorge below. This territory was lost in the 1990s, so it is inaccessible nowadays. The present Georgia-Russia state border lies about three kilometers to the north of Shatili.
The confluence of the Arghuni and Mutsostskali Rivers now marks the border, with Russian and Georgian five-cross flags flown on either side, and a Georgian border guard stationed nearby.
It is here that the village of Anatori used to be. Your guide is likely to tell you an amazing story involving what we call today social responsibility. Once, a disease broke out in the village—it is hard to tell what disease and when, and I have heard numerous versions dating the story to different periods between the 13th and 17th centuries—forcing many infected villagers to flee and await death in nearby burial vaults. One way or another, it is a fact that the ruins of the village and the burial vaults full of bones are all we see in this place today.
Your guide will also tell other unbelievable stories about friendship and enmity, death and life in Khevsureti. Stories aside, if you really want to embrace Khevsureti, you must meet Khevsurs in person, people who, despite hardship and roads closed throughout harsh winter, refuse to leave their ancestral land, keeping guard as the sentinels of their medieval towers on the border with Russia.
The gorge and the river to the right of the Anatori burial vaults are known as Mighmakhevi and Mutsostskali, respectively. Above Anatori there is no phone or internet signal.
This gorge boasts yet another amazing tower village, Mutso, once populated by clans Diauri and Shetekauri. Today, only one family lives here. After the completion of Mutso's ongoing rehabilitation, however, several households plan to return, and hotels are likely to be set up here, too.
The unpaved highway leads from here to Khonischala and Ardoti.
Ardaki, Archola, and Khakhabo further up are accessible only by foot. Log bridges are periodically washed away, leaving travelers no choice but to walk through the river.
If you are into extreme adventures, these villages are your primary destinations, though
Where to stay overnight?
Family-run hotels are found in both Piraketa Khevsureti (Barisakho, Korsha, Chirdili, Roshka, Gudani, and Khakhmati) and Pirikita Khevsureti (Shatili and Ardoti).
In Shatili, pretty much every family is eager to host guests. There are several family-run hotels housed in cottages and homes in New Shatili on a hill above the old settlement. Spending a night in a tower will make your experience doubly exotic.
There are several camping sites in Khevsureti (in Chirdili, near Mutso) where you go team-camping in tents. On the other hand, you can set up your tent anywhere you please, and nobody will object, unless you are on holy ground or near a shrine. So be on the lookout for crosses or other religious symbols.
An overnight stay costs 20-30 GEL. A longer stay with two or three meals a day will cost you 40-70 GEL (for details, you can contact hoteliers).
Web: Information about hotels online is only available in Georgian at khevsureti.ge/hotels
Food
Keep in mind that no markets or public restrooms operate on the road to Khevsureti above the village of Korsha.
Last year, a café-like outdoor booth was set up to treat guests with tea, coffee, and beer.
Generally, there are no restaurants or other similar functioning outlets. On the other hand, you can order khinkali dumplings or a full meal in the khinkali diners (Vazha Tsitskolauri's establishment near Magharoskari or the Ubedurski diner at the Chargali turn) or family-run hotels along the road to Pshavi.
Khinkali dumplings are the most popular dish. Local hosts will also treat you to equally delicious khachapuri cheese bread and ketseuli meat-stuffed double-crust pies, also to locally produced honey and dairy products.