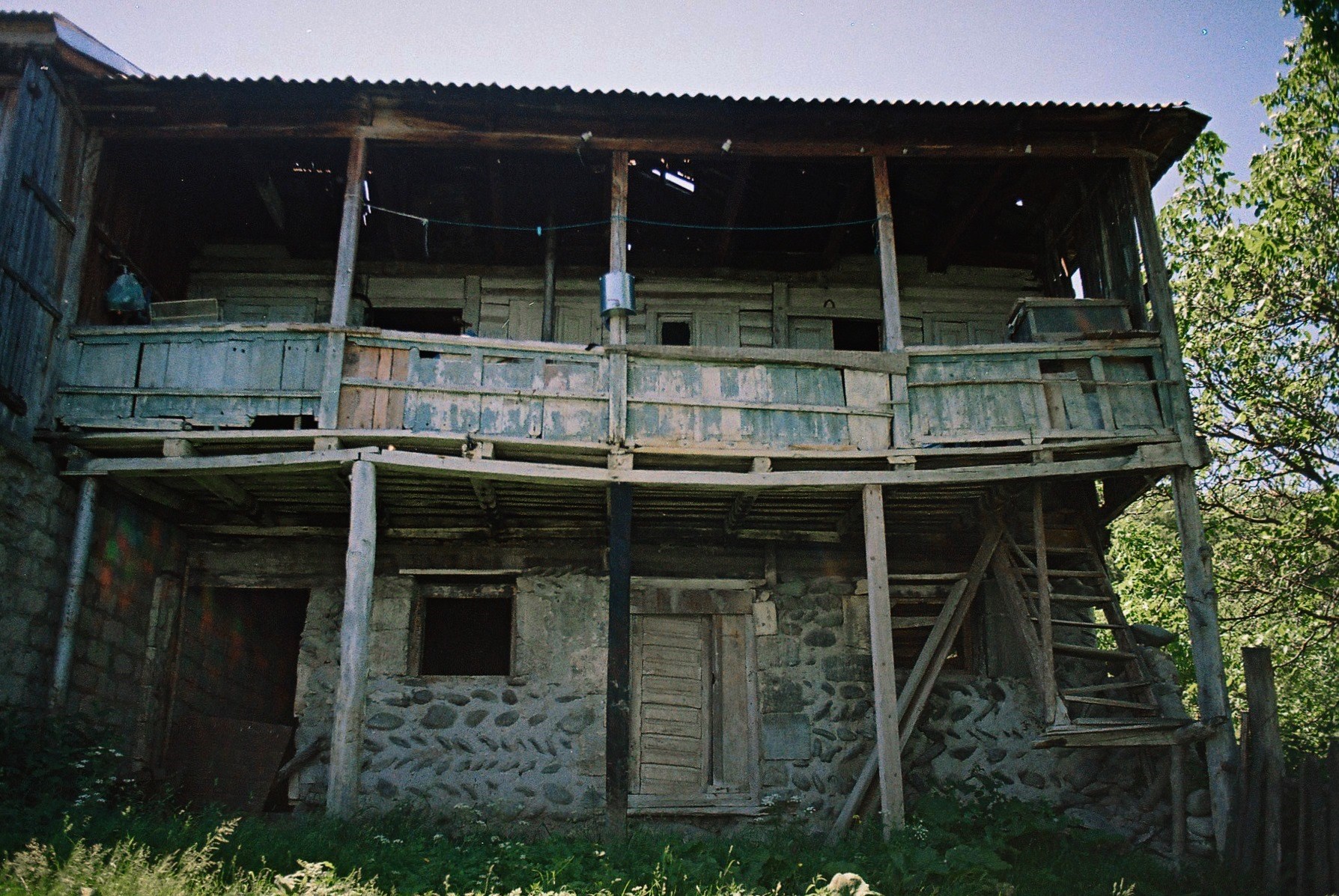 Flowers | Vera Khabelova, 68 [ENG/RUS]
08.07.2020
Смотрите текст на русском языке ниже
Village Gverdzineti, Dzamas Valley
If the people hadn't come to settle here, I wouldn't have stayed. I'm not a parrot, am I? Now we're just two Ossetians here, no more. Everyone else is Adjarian, about 42-45 households. At night, as I lie down, I remember who lived where and how. 
The first unrest, in the 90s, we were here. The village was filled with Ossetians.  
Then they called me to tell me they'll beat me up if I didn't leave. They really did beat them up. A lot of bones were broken. Do you see the ruins of that old house on the hill? They beat a woman near to death, she barely made it. She came out to the barn so they wouldn't take her cattle, and she was beaten with rifle butts. The same thing happened to my stepmother, and she said, Child, there is no way I'm staying here and you should come with me to Ordzhonikidze. 
The whole village was fleeing. They left everything behind, fled with the shirts on their back. As for me, I said that I can't, I can't leave my husband or children, they're Georgians.
These were the kinds of things happening back then. 
I was shaking all the time, afraid I would be beaten up. I didn't talk to them, what's the point talking to monkeys? Here, a boy was taken from us, they pushed him in the river and tried to drown him. He refused to go on robbing sprees with them. He went to Ordzhonikidze all bruised and beaten only to die there. Many died over there. Ain't no other outcome once you get hit with a rifle butt in your neck. 
Get out, Ossetians! Leave this place! They yelled out. Then the folks heard it loud and clear, but it didn't reach me. 
At that time, my girl was an accountant. She left her job. You're raising Ossetian hatchlings, they told her. She had two kids. Her husband was Ossetian. When he heard, he didn't stay and took her away. They are in Ordzhonikidze to this day. 
If these Adjarians hadn't come down, they wouldn't have left one piece of wood, they would've stolen it all. Ossetians were no longer here when the Adjarians came. 
If they hadn't come, what would I do without them? When I go into their yards, I am happy. The whole village is blooming.
________________________________________________________________
From the series "Rebuilding Memories for future- South Ossetia 1991/2008" 
Text: Nino Lomadze
Oral History Collected by: Toma Sukhashvili, Teo Kavtaradze, Saba Tsitsikashvili, Ninuca Metreveli, Mariam Sisauri. 
Цветы
Вера Хабелова, 68 лет
Деревня Гвердзинети, Дзамское ущелье
Если б не люди, которые приехали, и я бы не осталась. Не попугай же я? Сейчас здесь нас две семьи осетинов, остальные аджарцы, около 42-45 семьей. Бывает, лежу себе ночью и вспоминаю, кто где и как жил.
В девяностые годы, во время первых беспорядков, мы здесь жили. Очень много было осетинов тогда в деревне.
Потом мне позвонили и сказали, что изобьют если не уеду. Взаправду так было, били людей. Многим кости переломали. Видишь у склона развалины старого дома? Там женщину избили, да так, что еле в живых осталась. Пошла к хлеву, как бы скот у нее не угнали, а они, давай бить по ней прикладами. С моей мачехой обошлись также, ее тоже избили прикладами. Вот и сказала она мне, дочька, я здесь ни за что не останусь, давай, поезжай вместе с нами в Орджоникидзе.
Всей деревней сбежали. Все оставили и сбежали в чем были. Что до меня, я говорила, что не могу, не могу оставить мужа, детей... и они грузины. Вот такие вот были дела.
Я все время дрожала, боялась, как бы кто не избил, но поговорить, так и ни с кем не поговорила. Как с ними, поговоришь, с обезьянами? Одного из наших парней в Куру посадили, утопить хотели, раз не согласился вместе с ними разбойничать. Перебрался весь избитый в Орджоникидзе и умер. Многих постигла такая же участь. Какого, когда тебя по шее прикладом бьют?
Кричали, мол, уезжайте, уезжайте отсюда, осетины. Позднее мы узнали, кто кричал, но до меня не добрались...
В то время моя дочка бухгалтером работала, но ушла с работы, когда сказали, что она осетинских змеенышей растила. Двое детей у нее было, а муж ее, как мы, осетин. Узнал, что жене говорили, и уехал, забрав с собой семью. В Орджоникидзе они живут.
Если бы не эти аджарцы, не оставили бы ровным счетом ничего, украли бы все. Когда аджарцы приехали, осетинов здесь уже не было.Что бы я тут делал без них? Зайду в соседский двор и радуюсь. В цветах вся деревня.
_______________________________________________________
Из цикла Живая память — Южная Осетия 1991/2008
Текст: Нино Ломадзе
Над изустными историями работали Тома Сухашвили , Тео Кавтарадзе, Саба Цицикашвили, Нинуца Метревели, Мариам Сисаури