Polish solidarity between two borders
24.08.2022 | 17 Min to read


I too was in Poland in late March.

By that time, the news of Polish solidarity had already hit the headlines in the global media. I had already seen tens of live reports and interviews from Medyka, a small border village in Poland's southeast facilitating safe passage for hundreds of thousands of Ukrainians, explaining why it really did not feel like setting foot there for the first time. Poland had redrawn the picture of refugee crisis in our minds. Being there reminded me of footages with dead children washed ashore and makeshift tents assembled in haste.
But then I stopped comparing the misfortunes of the war-affected and guessing who had been luckier.
We journalists are waiting for refugees by the fences—figuratively, this metal barrier is a boundary between war and peace. This is where fleeing Ukrainians take a breather, while we point our microphones at them and ask the same questions in Russian or English: Where are you coming from? How did you rescue your dog? Whom did you leave behind? What did you see? What have you been through? How did you make it?
Some just brush us off—this is not the best place for motivating people to share their stories, but this is also where refugees break out in tears, albeit fleetingly.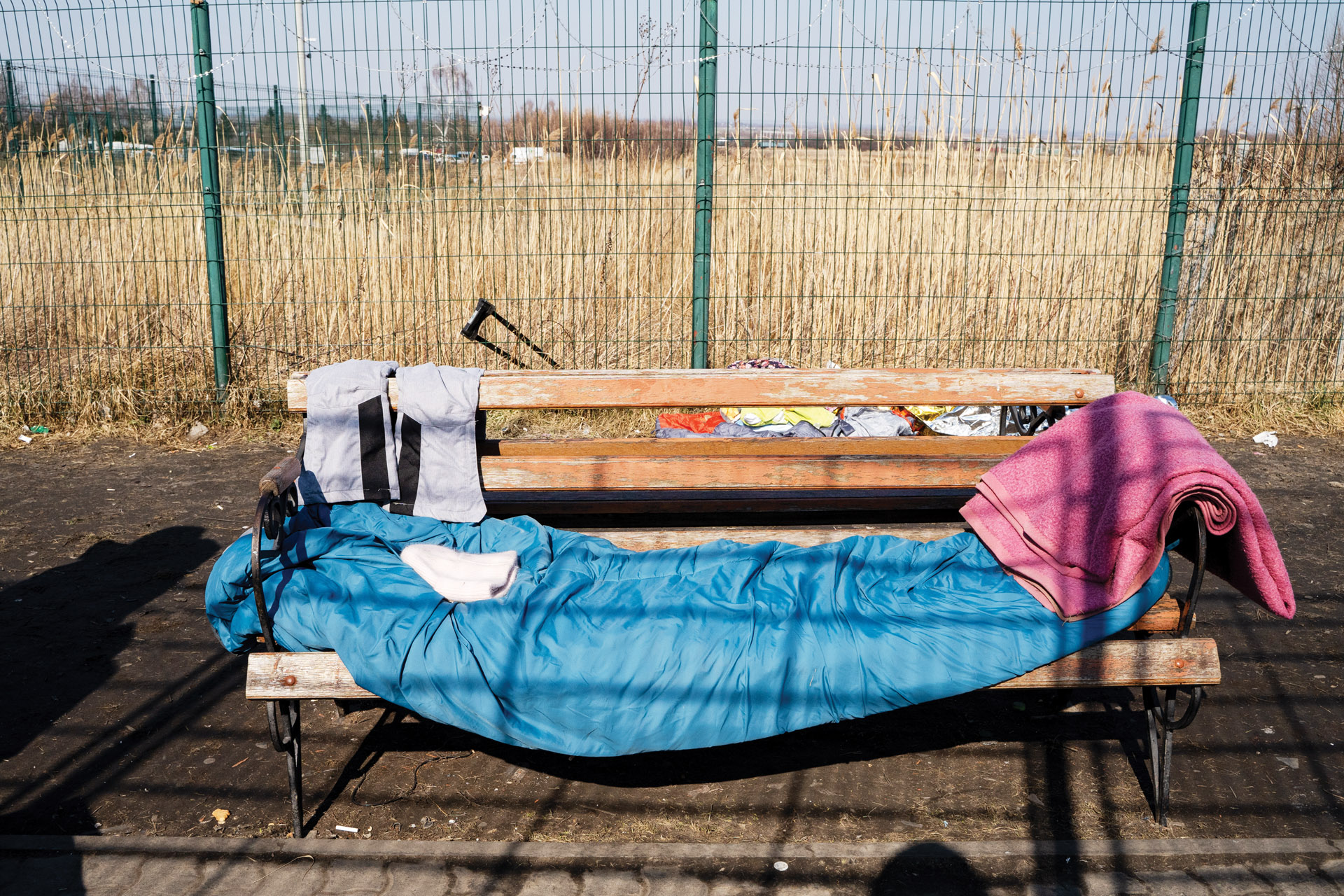 The scene is brief, with volunteers directing them toward a corridor between two rows of tents. To the right there is food, hot and diverse, while the stalls across carry essential items. The volunteers stock soaps and shampoos by skin type, and toothpastes also come in a variety to choose from.
"Are you allergic?"
"Do you have dry skin?"
Here and there tents are also set up for women, children, and elderly to rest, and so is an improvised pet clinic….
Why did Ukrainians choose Poland?
Poland shares one of the longest western borders with Ukraine, next only to the Romanian border, which passes in part through the Carpathian Mountains and therefore makes a difficult route.
The eight highway and six railroad checkpoints operating between Ukraine and Poland were considered some of the busiest border crossings in the European Union even before the war. Ukrainians fleeing war chose these points for border-crossing for several reasons. Firstly, their choice was predetermined by the decision of the Polish government to transform the country's checkpoints into pedestrian passages. Secondly, and even more importantly, over a million Ukrainians had covered the Polish route even before the war. In 2021, Poland registered 1.6 million circular migrants, short-term jobseekers from Ukraine applying for work permits. Alongside this experience, most refugees see cultural and linguistic kinship—and, more importantly, being close to home and prospects of an eventual return—as promising factors.
"Unbelievably, everyone hopes to go back home, even those who fled from Mariupol," says Iona Kowalska, Head of the Union of Regional Publications, who now works as a volunteer mostly seeking homes and shelters for refugees.
Border towns and villages are packed, no more room, while transporting refugees to big cities is a difficult task, because extending the distance from home seems scary to them.
The border near Medyka happens to be the busiest, with more refugees entering than anywhere else….
After collecting essentials in the corridor between tents, refugees dine, get some rest, and join the next group waiting to be transported. Here they are briefed in detail what to expect over the following few days and, more importantly, how they should protect themselves from any unwanted adventures.
As early as late March, the story of Luda Hromye started circulating. Together with her mother and aged grandmother, she was sheltered by a stranger and, in a few days, threatened by him at knifepoint.
Social networks and sites even post questionable classified ads like "Will shelter only young women/girls." Some journalists went as far as conducting an experiment by calling the number given in the ad.
Clearly, organized criminal groups have upped their operations during the crisis, the reason why I no longer encounter enthusiastic strangers near the border in Medyka offering free transport, shelter, and other kinds of assistance to refugees. Most of them probably had no hidden agenda in the first place. Still, since early April, Poland has been trying to employ written or unwritten rules to manage this unprecedented solidarity and support.
One way or another, the main rule is as follows: Refugees must use only accredited buses/microbuses to reach their destinations. Banners are posted on the walls to warn instruct refugees in protecting from trafficking.
From the border, they are transported to big waiting areas, a Tesco supermarket and school building allocated for this purpose in Medyka. Nearby, impromptu shower stalls are also set up.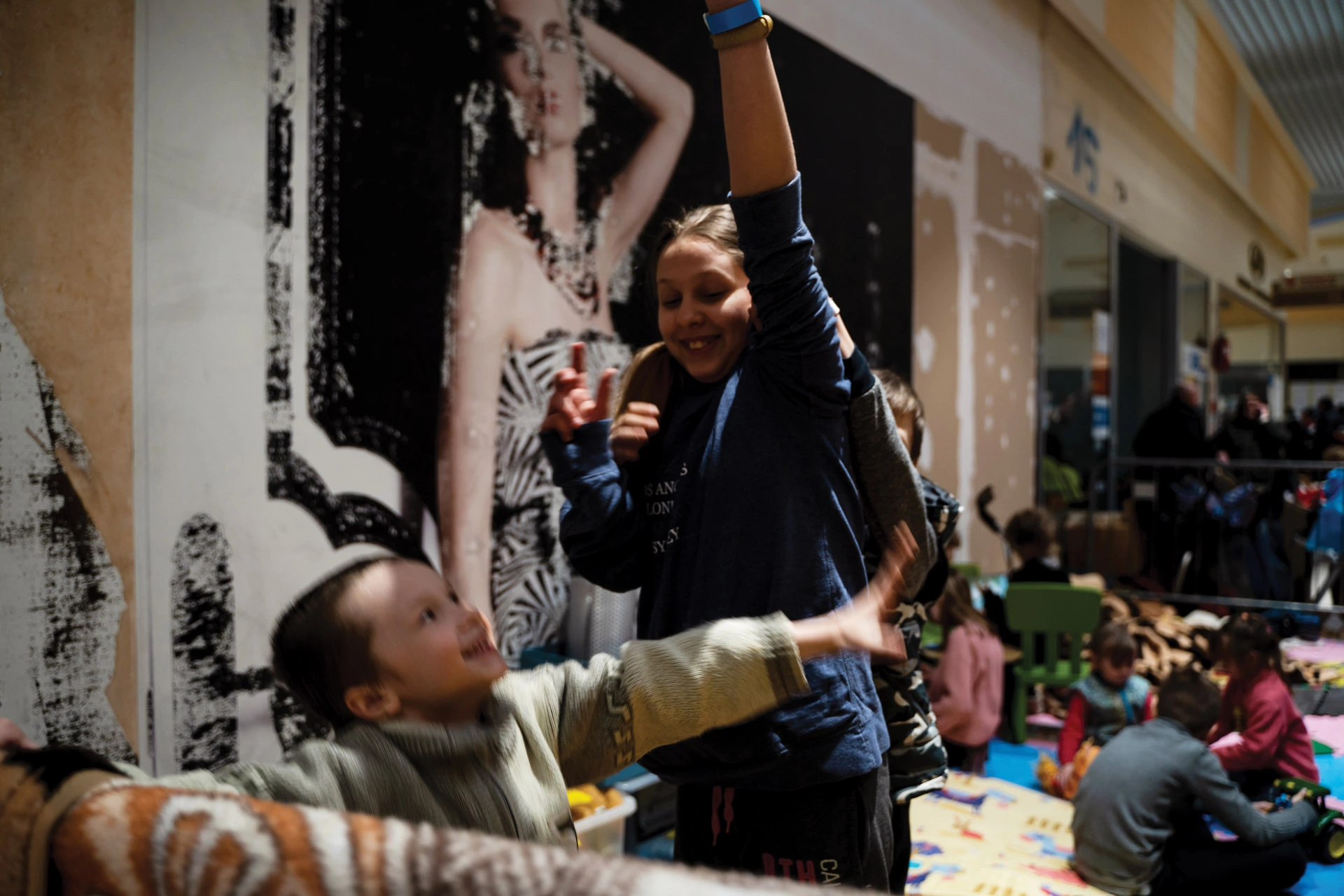 Volunteers no longer let us film/photograph refugees sleeping in hundreds of cots in enormous halls. Encountered all over the place, these restrictions and rules are hard to bypass. We journalists explain to volunteers that this is the face of war that the whole world must see. Deep down inside, however, we know that the world does not need to be convinced anymore that what is happening in Ukraine is an outright war anymore … that entire families, frightened and driven out of their homes, somehow fit on a single cot, sometimes even with whatever the belongings they have managed to salvage and carry with them.
Dressed in yellow and orange vests, Poles work in shifts, doing their best to let the fleeing have at least a few hours of sleep and rest, something shaping in the process into a new humanitarian approach, in a way. Poles do not want refugee camps to typify their humanitarian philosophy.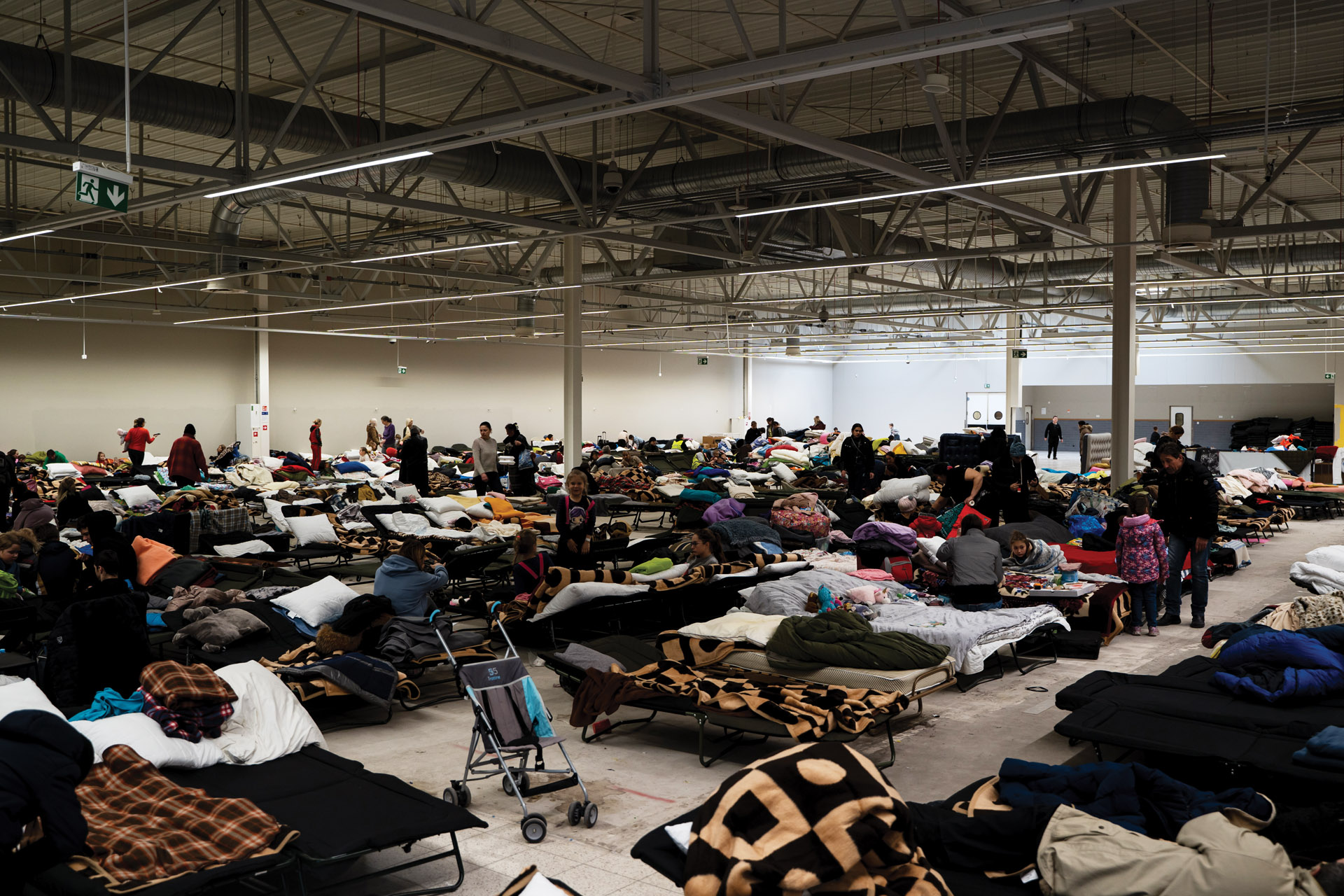 Common dining areas are also strictly outlined: "People cannot tell war stories while eating," a volunteer tells me. "This refugee crisis is nothing like any other. We need practical methods, not preset models, to manage the situation. Consequently, the UN Refugee Agency's standard will not work for us. Our job is different from what is usually done for refugees.
"When a war lasts for years, the situation is different, and not much thought is given to ways for people to return home. But ours is a different task. These people must return home peacefully, without difficulties, so that they may be maximally independent and integrated into society. In a word, we must learn how to work with them, not for them."
Vitek Hebanowski, who is in charge of the Refugee Information Coordination Center in Warsaw, described his work: "On February 24, I opened a blank Google document, imagined everything I would possibly need if I were a refugee, and listed it all. Next there was a Zoom session with my friends and colleagues working for the benefit of refugees, just on their own. We started adding to the document who did what, where and when, and where this information would be available. Shortly, this document transformed into two websites, a map, and two databases for refugees. About thirty volunteers work on updating these databases.
"Then we realized that we needed a common space—a free space, of course.
We went to Warsaw City Hall, saying that refugees needed our help, and we needed a space to help them. To our surprise, they allocated an office right next to Warsaw Central Station. We have been there ever since, and we invite everyone eager to do relevant work and requiring just a laptop on the table, a source of power, and a glass of water to that end."
The Refugee Information Coordination Center has created a database helping newly arriving refugees navigate in Warsaw. It offers information about where one can learn Polish, how to land a job or obtain a Polish PESEL ID, where to register for monetary assistance, how to become a volunteer, what to do if you have a child…. The database also contains a list of contacts, a vast catalog of all organizations, informal groups, companies, and institutions working with refugees.
People do not stay long in camp-type spaces located on the border and central stations. A big group of volunteers is in charge of their accommodation.
The Information Center for Refugees at Warsaw Central Stations sees a line of Ukrainians wishing to cross over to other countries.
"How do I go Germany? I have acquaintances there," a Ukrainian woman asks. And she is instructed where to get a free ticket, though also adding that she cannot return free in charge. She seems puzzled. Then she tries to clarify this issue with the accommodation and transport section set up at the station. A volunteer in an orange vest steps up to accompany her. The volunteer helps her put her papers together, claims a ticker on her behalf, and even fetches hot coffee for her. The train stops, but she is not moving. Other volunteers get involved too and even call for a psychologists from the station's public healthcare unit. The woman is trembling, clutching at her bags, and turns her back to the train.
"Would you like to wait for the next one?"
"Yes, please."
About 1.5 million refugees have left Poland, while almost 2,000,000 remain in the country. Presently, the population of Warsaw alone is up 266,895 people compared to usual. According to a study by the Union of Polish Metropolises, a large portion of refugees settled in the border town of Rzeszow, with its population quickly increasing by 53%. In the same vein, the population of Wroclaw, where almost 190,000 Ukrainian refugees presently reside, has grown by 29%. Though somewhat fewer—namely 177,565—Ukrainians have found refuge in Krakow, the city's population has still grown by 23%.
Where do these people live? Poland has neither compact settlements nor refugee camps. For over three months, Poles have been hosting most Ukrainians in their homes.
Marta Jaroszewicz, assistant professor at the Center of Migration Research of the University of Warsaw, has been monitoring and studying this process for over three months now: "Let's be honest, Poland has never been a country of immigrants. Better still, we are one of the most homogenous states in the European Union. Roughly speaking, in two decades following the 1990s, we accepted just about 100,000 Chechen refugees. Today, however, we have 3,000,000 in just two months. After 2008, about 8,000 came from Georgia.  Before the war, those 2,000,000 that recently crossed over to Poland used to make up a workforce coming to Poland temporarily and returning home after a while. Accordingly, we have not worked on a policy for their accommodation and integration. Yes, streetcars are packed, and it is virtually impossible to get a doctor's appointment. Of course, we will be tolerant and patient, but we are not—and have never been—ready for it. And now that the first shock has passed and romantic sentiments have subsided, we need a strategy."
I do not know if Poles knew from the very outset that clearing out a room or a wardrobe would not be enough to shelter refugees fleeing war, that they would have to accept them with all their traumas, fears, and nightmares.
"I was just halfway through my chemo. When the war broke out, I fled together with my children, leaving my husband behind in Ukraine. I did not know anyone here [in Poland]. But they have worked hard to make sure that I continued my treatment here," says Svetlana whom I met at Szafa Dobra. She was busy looking for spring footwear before we struck up a conversation.
The name of this store, Szafa Dobra, means wardrobe of kindness  in English. And it is just like any other outlet, with clothes arranged on hangers by size and season, and several fitting rooms available. Items of your choice come in brand bags. Tens of volunteers open humanitarian sacks and sort out all kinds of clothes, even carnival costumes and wedding gowns. Ukrainians can come here once a day and choose as many articles as they need. Importantly, it must feel like a shopping experience, with trying things on and "buying" them… free of charge.  
Similar to other ideas in support of refugees, the wardrobe of kindness was conceived by civilians and initiative groups.
"This marked a historic moment and, in a way, privilege for Poland. We have proved that we have a solid civil society that cannot and should not be discredited by politicians. Nothing can make these people forget Bucha or eclipse the torment and pain they have been through. But they ultimate goal now was not to botch this cause," Vitek Hebanowskisays.
That Poland is also writing its own history in this war was underlined Ben Stanley, political scientist at the University of Warsaw, in an interview with The Guardian: "Russia's invasion of Ukraine was nonetheless a historic 'we told you so' moment for Poland. Warsaw could try to position itself as the capital that had been warning this would happen for years. And now that the EU's center of gravity eastward, the crisis creates an opportunity for Poland to stake a claim to being a regional leader. It is determined to show itself as taking the lead in persuading a reluctant west to take tougher action; stiffening resolve in a very public way."
Weighing down mostly on civil society, this enormous humanitarian effort emboldens Poland's authorities to signal to the EU openly that it is time for Europe to leave behind old misunderstandings and grant Poland access to blocked billions initially intended to be transferred to the fund for Poland's post-pandemic economic recovery. We are talking about 36 billion euros that Brussels keeps dragging its feet to allocate to Poland in the form of grants or loans.
The truth is that the EU accuses Poland of backsliding on democracy. The consequent tensions, persisting for seven years now, are tied to Law and Justice, Poland's ruling party led by Jaroslaw Kaczynski. President Andrzej Duda, also a member of this party, once said that "the EU is an imaginary community from which we do not gain much."
In 2015, Duda claimed a sweeping victory in the presidential election and was sworn in for his first term. He is a social conservative who claims to want to protect the model of traditional family.
In March, he vetoed a law designed to protect schoolchildren from moral corruption. The bill was initiated by Poland's minister of education, a vocal opponent of LGBTQ+ rights.
"We do not need new conflicts," Duda said. This, however, does not exclude from the agenda issues that make the European Union question the process of Poland's democratization, including the law banning abortion. Besides values, another major reason behind the disagreement between the EU and Poland lies in the rule of law and a free judiciary.
One way or another, everyone agrees that Poland needs finances to be up to the task of receiving refugees. But this money comes at a price: the EU demands that Poland come through with its promise and abolish the Supreme Court's Disciplinary Chamber, a tribunal serving as an instrument for political pressure on the judiciary, something that goes against the EU's principle of rule of law.
"Poland has gone straight from being the EU's bad boy to star pupil thanks to Russia's invasion of Ukraine," Politicowrote on March 3 when Poland sheltered almost 500,000 refugees from Ukraine. Four months into the war, however, the process did not seem that way from the point of view of ordinary Poles, because Poland's authorities take credit for things paid for by regular folks.
"This money is about to be depleted. We don't even know how much has been used up so far," Marta Jaroszewicz tells us. "As an ordinary Polish citizen, I declare that we are in desperate need of this money. If I were the European Commission, I would make concessions. If they don't want to give this money to the central government, they should give it to municipalities, nongovernmental organizations…. Just give it to us, because the war continues, while all we have is solidarity and improvisation to drive us."
Natalia Gmyrsowska, an activist of Ukrainian descent who has lived in Poland for thirty years, believes that the authors of the most innovative solidarity models work for self-governments, not the central authorities: "It became clear to Poland's authorities that considerable civil resources were accumulating on the level of self-government, with money and other types of assistance amassing, and people flocking to help…. Naturally, they wanted these resources to be channeled upward, to the center, and from there to be distributed down. Self-governments turned down the offer, though."
Lublin, a city where Natalia lives and works, also chose in favor of independent decision-making. According to her, the issue of registration in this Polish city has been settled fast and easily, including the issuance of PESEL IDs necessary for healthcare and education. According to a study by the Union of Polish Metropolises, some 40% of the refugees in Poland use PESEL IDs.
On the border, refugees are asked about their qualifications, whether or not they would be able to work as assistants in schools or kindergartens. Importantly, Lublin's City Hall came up with something very timely, a text for an agreement, a contract of sorts, between Ukrainian refugees and Polish hosts. This contract defines the duration and terms for parties sharing spaces in homes. As a result, the relationships between Lublin's residents and refugees living in their homes are not as tense, because everything is made clear from the very outset, including the rules and duration of coexistence. Naturally, sheltering refugees is a voluntary act. An ordinance applicable in Poland, however, prohibits evicting refugees and obligates host families to find and offer alternative shelters.
This and other ordinances of this kind are designed to protect Ukrainians fleeing the war even afterward, when solidarity among the people reaches its limit. According to Jaroszewicz, it will happen soon; and now that the phase of improvisation is over, a new system and at least one-year strategy for coexistence are in order.
Near the Medyka border, it is hard to imagine that people along the Poland-Belarus border on the other end of the country are dying of hypothermia, that Poland rightfully simplifies bureaucracy to remove barriers along one border while building a wall 186 kilometers in length and 5 meters in height along another one, effectively closing Europe's door to thousands of Afghani, Iraqi, and Syrian asylum seekers.
The international media tag this refugee crisis as Lukashenko's evil game—and probably rightly so: Lukashenko first hosts refugees seeking asylum in Belarus, but then points them to the gate of Europe.
"There are many among you with families in Germany. We appeal to Germany to take these people and help them find their family members and relatives. If Poland and Germany cannot hear me, this is not my fault," Lukashenko addressed those kept in tents in Bruzgi, near Poland's border, from a makeshift platform.
It is believed that, by creating a crisis along the border, the president of Belarus is putting western humanism to test, retaliating against Europe for sanctions imposed on his officials and companies after the 2020 presidential election. Lukashenko's victory stirred a strong wave of protest and riots subsequently brutally suppressed by Lukashenko who cracked down on protesters in the streets and arrested many.
In the spring of 2021, the country abolished mandatory visas for some Near Eastern and African states, while opening travel agencies offering asylum seekers a simple and cheap way to get to Europe. This route ends at the Bruzgi camp, on the Belarus-Poland border, from where Europe is within arm's reach. But the thing is that they cannot enter Europe through checkpoints. Consequently, asylum seekers are trying to cross the Polish border at night, through dense forests, flying blind. Some die on the road, like one Nigerian man whose body was discovered in Olchówka forest, with just one backpack on him; or that 19-year-old Syrian boy, Al-Hassan, who drowned in a river 7 kilometers from the Belarusian border, and now is buried in the Muslim cemetery of the village of Bohoniki, in Poland, far away from his hometown of Homs in Syria. Bohoniki's Muslim Tatars—who settled along the Polish-Belarusian border in the 17thcentury—took it on themselves to bury him.
A group of Afghanis crossing the Polish border on August 18 barely escaped death. Their story was covered by Amnesty International by tracing the route of 32 Afghanis: 27 men, 4 women, and an underage girl based on satellite images and 3D reconstruction. The organization argues that, after reaching safety on August, they were herded by Poland back to the Belarusian border, illegally and forcedly.
What awaits these people on the Belarusian border?
Hunger, dehydration, diseases spread in packed tents, and ultimately a return to where they have fled from in the first place.
"Belarus is an adverse country, and we have no diplomatic relations with it whatsoever. And, of course, Poland's authorities consider everyone who may enter our territory from there as a threat…. And there is also a threat of espionage," Marta Jaroszewicz tells us.
Vitek Hebanowski calls it the limits of shame: "We must admit that shame too has its limits. These people came here to survive, but we sent them back, or abandoned them to die in the forest. I'm not saying that all of them are refugees… that we must accept them all in Poland… but they should be given an opportunity to tell us their story."
This is exactly what Poland—Amnesty International calls for:
"The authorities must end pushbacks, and urgently provide adequate shelter, food, water, sanitary facilities, and access to lawyers."
Since September 2021, even volunteers have been prevented from getting near the Polish border because, on September 2, the government declared a state of emergency in the area. And this means that journalists no longer report live from the tents set up along the border, that toys are no longer given out to the little ones, that heartbreaking stories are no longer told, and people are no longer invited to spend a night in homes.

Pictures by: Tbel Abuseridze