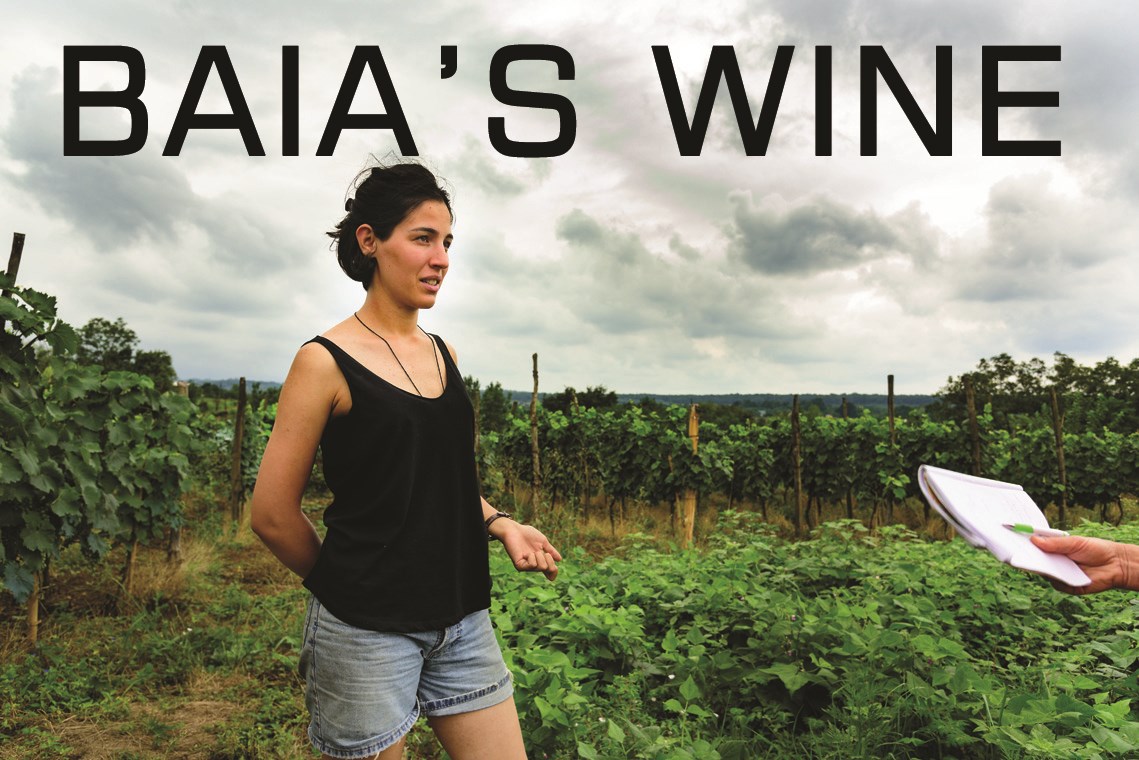 Say Hello to a Georgian Winemaker | Baia Abuladze, Baia's Wine
09.07.2019
Short profile
Baia Abuladze is the founder of Baia's Wine. Her family owns vineyards in the village of Meore Obcha, Baghdati, where they produce up to 8,000 bottles of wine for export to the US, Switzerland, Germany, Austria, France, and Sweden. Baia's Wine uses 5 Georgian grape varieties to make wine: Krakhuna, Tsitska, Tsolikauri, Otskhanuri Sapere, and Aladasturi—Imeretian varieties that the company relies on and cherishes.
The winery itself is also a vibrant tourism destination hosting scores of wine and culinary tourists. You can easily pinpoint it on Google Maps, also on Wine Route Maps, the official state-run program installing road signs to lead you directly to her winery, among many others.
Q: Every other family in Georgia, if not every household, makes its own wine. And that was the case even under Soviet rule, when homemade wine was given preference over factory-made wines, because it was organic, with fewer additives... Yours is a winemaking family, too...
A: Four generations of my family have been engaged in winegrowing and winemaking, which is not uncommon in our village where many households make their own wines, though we have always been regarded as a strong winemaking family. Our vineyards were quite small by Kakheti's standards. But by Imereti's standards, where winegrowing lands are sparse, owning a 1.5 hectare vineyard was a big deal. Compared to many other local farmers, we were harvesting more grapes, and that set us apart from the bunch.
Q: How did you advance to the next level from homemade winemaking to manufacturing? And what was your motivation? What inspired you?
A: I never imagined I would create a business from our traditional family occupation, something based on the knowledge handed down by our ancestors, something that was always the source of joy in our home as far back as I can remember. To me, making wine was always both part of my everyday life and an enjoyable activity. However, I gradually started considering doing business after we became involved with the 2010 New Wine Festival. We observed larger companies and start-up wineries alike, learning much from both. In fact, it was at the festival that the idea of starting a business was conceived. In 2015, we won 5,000 GEL under Enterprise Georgia, a state program, and bought bottles and a small bottling line.
Q: What does family-run production mean? How are the roles divided?
A: My mother and grandfather are teachers, but they have been involved in winemaking all their lives. My sister, Gvantsa, holds a Master's degree in Agronomy, and her knowledge is the source of every experiment, every search for new flavors in our family. You should see her, a skinny girl, tending vineyards with a sprayer on her back! We consult Gvantsa whenever we need to choose new substances to use, when to harvest, or switch to organic production. Gvantsa also makes her own red wine, which she usually exports, though lately it has become very popular in Georgia, so we have started selling it in the local market, too. I am not a professional winemaker, but I have attended professional courses. My younger brother, Giorgi, is in his third year studying viniculture, and he brings home a new piece of knowledge every day. All that emboldens us, and we, hoping and relying on one another's knowledge, have accomplished a lot.
Q: What is the concept of Baia's Wine?
A: At first, we did not give it much thought, but now we certainly want to be a company manufacturing organic wine. It is our second year of organic production, which I believe is good for our environment, our customers, and the country as a whole.
Q: Which wine was your first in the market? How did the audience come to know you?
A: There were two white wines, Tsolikouri and Tsitska-Tsolikouri, which we offered for sale, so the wine community came to know us through Imeretian wines. Next, we became members of the Farmers' Association, so now we are also known for our exciting farming, too.
Q: Do you have an action plan? And where do you see your company 10 years from now?
A: We have been guided by a business plan for over a year now. For example, we were expecting to complete the construction of our winery by the end of this year, which we have already done. Next year, we are targeting an organic certification. We also have a 10-year plan; we want to expand our vineyard to 10 hectares, but it will not be the 2-3 dominant varieties. Instead, we want to put together and grow a collection of ancient varieties. All the while, our production must be fully organic, and we also plan to expand our sparkling wine output.
Q: Where do you see the Georgian wine sector ten years from now? Based on what would you make this calculation?
A: I have no doubt that, in ten years, the Georgian wine market will have taken over its niche sector, positioning itself in the international arena as a successful small organic manufacturer, and making a global name for itself as the homeland of unique varieties and original technologies.
My conviction stems from the trajectory we have already taken. Small manufacturers that are just taking the first steps will in ten years successfully represent Georgia in the market of traditional winemaking.
Q: Foreign visitors often say, I have never tasted anything like Georgian wine! It's totally different! How would you explain why, why is it so special?
A: Firstly, we are really excited to hear praises of Georgian wine. Secondly, the main difference lies in the grape varieties. What you drink here is not Riesling, Pinot Noir, or Chardonnay. Our country boasts an amazing diversity of grape varieties, and we have different winemaking methods. Our wines are more full-bodied, and our flavors are more pleasant, in many ways.
I must say that, by tasting Georgian wine, you get a picture of what wine must have tasted like thousands of years ago. The taste of Georgian wine is the taste of the most ancient wine—not of industrial, but of ancient wine. And if you want to try the same taste as 8,000 years ago, you need to come to Georgia!
Q: Baia's Wine is a wine company deeply rooted in the soil of Imereti, drawing on Imeretian grape varieties. Please introduce us to Imereti and its wine.
A: Imereti is the most distinguished region in terms of terroir beneficial for quality grapes and vineyard-keeping. What sets Imeretian wine from the rest of Georgian wines is its balanced acidity that harmonizes with fruit and honey flavors. Imereti grape varieties produce pleasant white wines and not only: our red wines are known for a nice, proper acid level. That is why Imeretian wines are a perfect match for so many dishes that they will make you fall in love with both the food and wine.
Q: Baia, please improvise a classic Imereti dinner menu for our readers, and pair it with wine.
A: Imeretian cuisine is more on the vegetarian side, and many flavors draw on vegetables. We are very good at mixing vegetables, hazelnuts, or walnuts, with the addition of fresh salads, well-seasoned beans, chicken cooked in a variety of ways, fish dishes with myriad variations, mchadi cornbread, and cheese. As you know, mchadi is a gluten-free product, a healthy and yummy alternative to bread. There you have it, a typical Imeretian meal, which I would pair with Krakhuna—chilled Krakhuna will be the frosting on the cake at our Imeretian table.
"The taste of Georgian wine is the taste of the most ancient wine..."