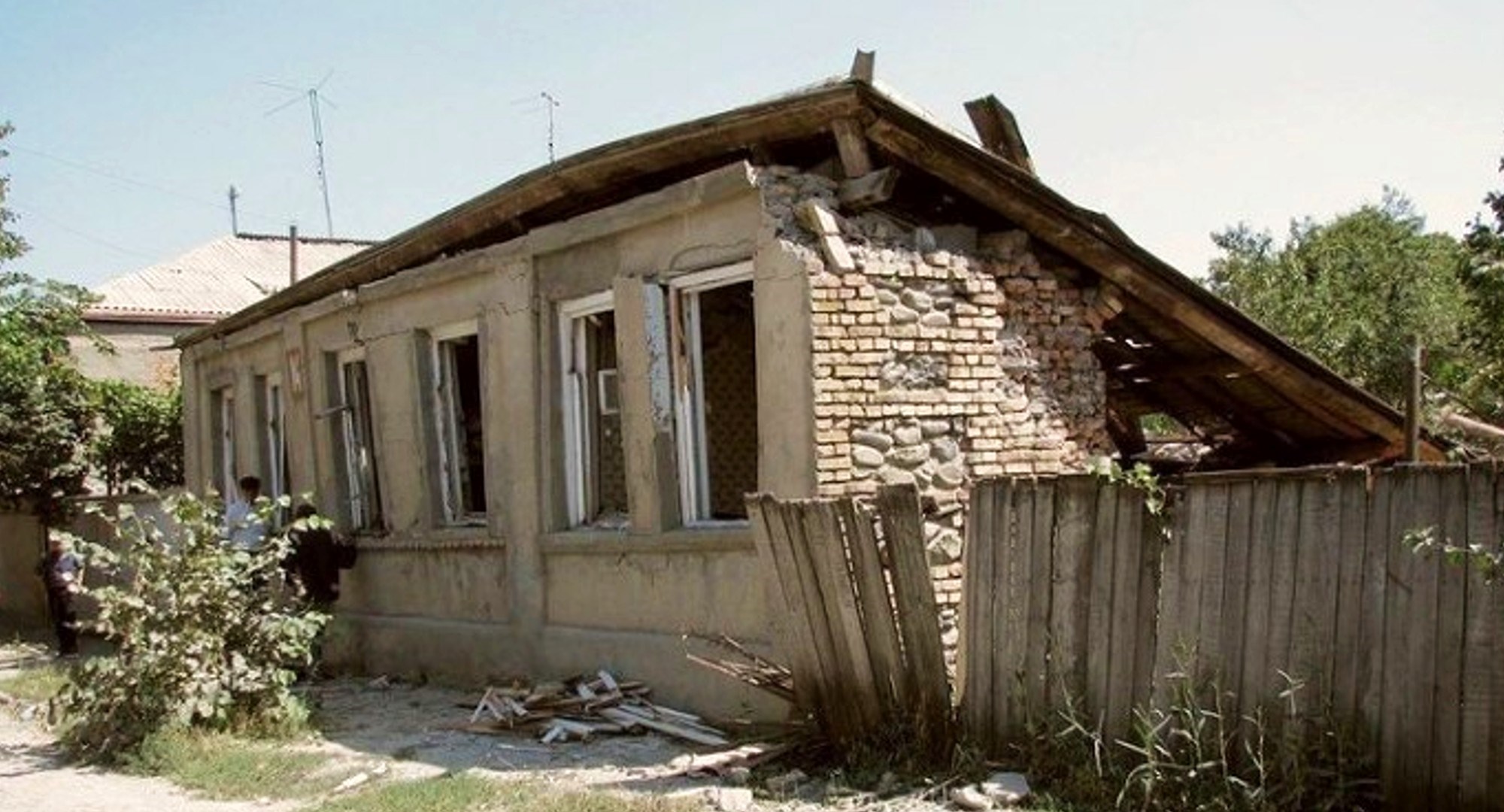 The Phone | Vladimer, Tskhinval [ENG]
02.09.2020
Vladimir, 48 years old. From Tskhinval. He is recounting the 2008 August War.
In one hour everything changed on August 8th. From my stained glass windows, I saw tanks roll by first, and then an infantry colony march pass. I couldn't quite tell from those colored windows, but I saw how they brought in an Ossetian boy in a black shirt, he was tall and thin.  He was walking in front of the colony with his hands on the back of the head. I always think about what happened to him, did they kill him or let him go alive? My sister was already in Vladikavkaz. Women and children were chaperoned there by a huge colony from Tskhinval. Not everyone went with them. My father was here too. When I saw the bombing, the first thing that popped in my head was I'm going to have to go to Russia on foot. I thought they were going to raze the whole city to the ground. I only wanted to find my parents. 
I thought, at the very least, I should bring my Russian passport. I didn't think that they would open the borders to transport the injured and refugees. What passport?! Which passport?! People lost everything. My mother's house also got damaged. My house too. They were firing cluster bombs and explosive shells.
On Heroes Street, in front of my house, when I saw the Georgian army, I fled through the vineyards. The main square was already bombed.
I was standing in the middle of Stalin Street watching the building next to the theater burn. Entire rooftops of houses were strewn on the ground. This is what I remember. Then word got around that thousands were killed and many children were dead. Someone had taken a picture of Tskhinval from above on the 8th of August. It was a horrible photo. We were sending it to each other. Houses were still burning.
I remember my thirst was choking me, I was always looking for water. I couldn't feel hunger. What horrified me most from those days was the story my mother had told us. In Tselinikov neighborhood, at the end of Isaki street, two georgian tanks were blown up. I have seen the photo as well. The corpses were lying there nearby. Nobody could go near it. It looked like there was an attack, and these boys took this street to go back.
About ten corpses were scattered right there on the street, everyone was armed. People gathered around. My mother was there too. All of a sudden, the phone in one of the boys pockets started ringing. First they looked at each other. Then someone dared to pick up the telephone. Does someone speak Georgian? Pick it up and tell them what is going on, he told the rest of them.
My mother stepped out, and said she speaks Georgian. They gave her the phone, and she put it up to her ear. She heard a woman's voice. She looked down, and it said "Mom" on the number. He died, she said. It seems they had their phones with them since they would get military orders on there for security. I replay this often, that she calls her son and someone picks up the phone there and tells her he is dead.
* * *
I don't follow Georgian news any more. I am not interested.
We are now only dependent on Russia. We have no expectations from Georgia anymore if they don't attack us that is, but we have also gotten used to that. Our lives go on.  
We don't recount the war anymore. Everyone still remembers the war well. What's strange is that people don't think of Georgians as their enemy. At the same time Georgia, the country, is everyone's enemy. This is how strangely it has formed in the consciousness.
This Ergneti Market was important. This was a kind of reconciliation. It didn't mean warmer relations, but more like reconciliation. But then Saakashvili came.
My father was Georgia's champion in Boxing. He had many Georgian friends and relatives in Tbilisi.
At the end of the 80s, this national question arose suddenly out of nowhere.  It also bothered our Georgians back then, no one liked it. I remember people would gather in the squares, not to have rallies, but just to sit and listen.  Everyone was talking about politics back then. No one could tell where this was all heading.
_______________________________________________________________________
From the Series, "Recalling Memories - South Ossetia 1991/2008"
Interview by Tamar Mearakhishvili
Text: Nino Lomadze



We Recommend